Chris Coleman: Wales manager undecided over future
Last updated on .From the section Football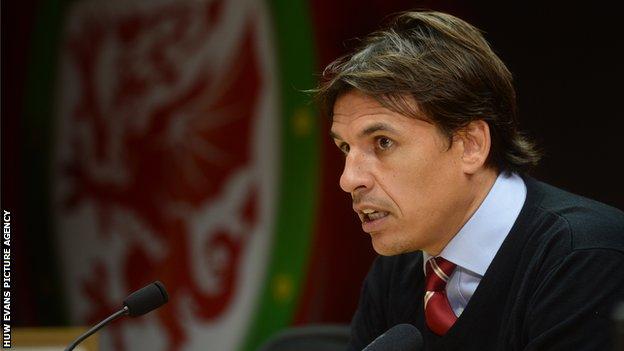 Manager Chris Coleman says he is undecided whether he will sign his new contract with Wales.
"We have two games and a friendly and I will see that through and at the end of that, that is when I will sit down and say yes or no," said Coleman.
His current deal runs out in November.
The Football Association of Wales has been in ongoing contract talks with the 43-year-old, who was appointed in January 2012 on a two-and-a-half-year contract following the death of Gary Speed.
Ford, the Football Association of Wales chief executive, said in September that talks over a contract extension are still ongoing.
"Clearly he needs to ensure we have a good couple of matches and let's hope we have that," Ford said.
Wales are bottom of their World Cup qualifying group following defeats against Macedonia and Serbia in September.
Ford's statement appeared to be a step back from his comments in August when he said: "Personally I think Chris is doing a fantastic job, let's hope he stays with it."
Coleman says he will lead Wales against Macedonia, Belgium and in a friendly against Finland at the Cardiff City Stadium on 16 November.
The former Fulham manager denied that he felt as if he were on trial for the next two Wales games, but did not hide his disappointment at the current position with the FAW.
"If that is the case, then I wouldn't want to work for people who judge a situation like that, because it is short-term," said Coleman.
"In the space of two games a lot has changed... perception anyway.
"That's football, I understand that, but if that is the case and this is a win, draw or lose situation.... we make a decision after that, I am not sure I want to work for anybody like that.
"I am not looking at it as 'if I don't win this game, I don't get a contract'.
"I look at it as another game I want to win for Wales regardless of who is missing and who is not.
"I want to win this game for Wales and what happens at the end of these three games, will happen - whether that is me saying yes or no, or someone else making the decision."
Wales lost their first four games under Coleman and have won just three of their 12 games in all with their last victory coming against Scotland in March.
In the build-up to the game in Macedonia, Coleman joined up late with the Wales squad after losing his passport.
The Wales boss then caused controversy following the 3-0 defeat against Serbia in Cardiff on 10 September when he claimed West Ham defender James Collins had rejected the chance to join the squad ahead of the game.
But West Ham centre-back Collins, 30, said he had not been contacted by Coleman or the FAW to request he join up with the squad.
Coleman also says he is determined to see out his contract with Wales and had no intention of walking away before.
"We have Finland in a friendly and I have always said I would never leave Wales during a campaign," said Coleman.
"I don't think that is the right thing to do. I have been here two years and managers are like stocks and shares, we are up and down.
"When we are winning, people are interested and when we are losing they are not.
"When we had a good run, I had other opportunities, but I would never ever walk out on Wales."