Joe Hart: Goalkeepers debate England number one's position
Last updated on .From the section Football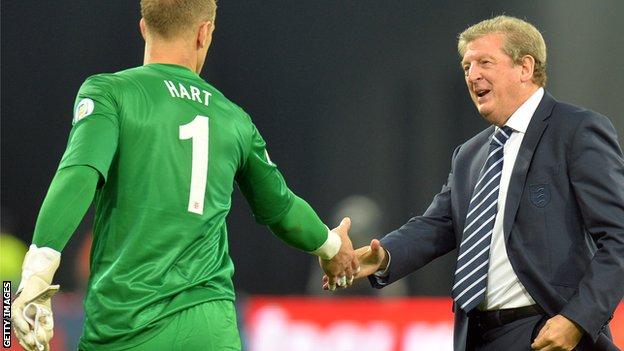 Despite Joe Hart to play in the crucial World Cup qualifiers against Montenegro and Poland later this month.
But is Hodgson's faith in the goalkeeper admirable or an error?
Steve Harper, the Hull goalkeeper who played in the Premier League for Newcastle, and Dean Kiely, once of Charlton and now West Brom's goalkeeping coach, give their thoughts.
Do you agree with Roy Hodgson that Joe Hart is England's number one?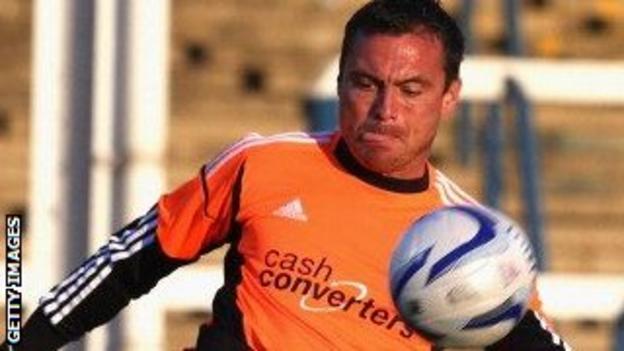 Steve Harper: "Joe's still the number one definitely - he's just had a rocky spell.
"We've got two big qualifiers and we've been down this road before where we put Scott Carson into an important Euro 2008 qualifier against Croatia on a difficult night at Wembley and it didn't work out.
"And he was vilified as well. So I think it's very much a case of keeping faith with Joe - who is a top-drawer goalkeeper - qualifying for the World Cup and then we can have a look at the options."
Dean Kiely: "What Steve said is spot on. I was Shay Given's understudy with the Republic of Ireland for many years and understand what it means when you have a number one who has cemented a place and made it his own like Joe has.
"The media perception and how the fans react is totally different from how managers, coaches, players and goalkeepers react to mistakes."
Will Hart's display against Bayern Munich haunt him?
Harper: "It's a lonely place when you have a difficult night. I'm just a little bit concerned because we seem to be in a bit of a vicious circle with England goalkeepers.
"We build them up and build them up - and then as soon as they hit a wobbly spell they get absolutely crucified.
"You have to be strong - very strong - mentally to be a goalkeeper.
"But Joe won't have read the papers this week. I'm sure it's just the kind of morning you want to get out on the training field, put right a few things that you weren't happy with the night before and get on with it."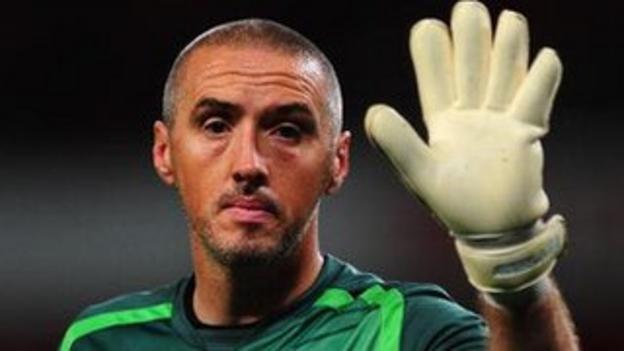 Kiely: "Obviously when a goalkeeper makes a mistake it can result in a goal - and that's where the mental toughness comes in.
"The environment you create in and around the training ground must be a comfortable one. It must be one where you can learn and share.
"I've played against Joe, I know him and I've spoken to him. Top players are normally, in my experiences, top people. They have a great personality and character and are mentally strong.
"I imagine he will just shrug off what happened and just crack on as normal because there is no question about it, he's a top goalkeeper."
Does Celtic goalkeeper Fraser Forster deserve a go?
Harper: "John Ruddy is doing well at Norwich and Fraser has been outstanding at Celtic.
"I've known Fraser for seven or eight years, worked with him for a long time at Newcastle and was very much involved with his development.
"I know just how good Fraser can be, but I think for these next couple of qualifiers it's important we stick with Joe and then we can have a look at what else is out there."
"But when you have someone of the quality of Fraser Forster up in Scotland playing Champions League football it certainly increases the competition for places."
Kiely: "Fraser Forster has set the world alight and pulled up trees with a great game against Barcelona the other night.
"But that won't carry much weight or gravity around the England set-up because Joe Hart is the one with the shirt - and rightly so. He's played to a higher standard over a longer period of time.
"The little blips that have come Joe's way will come the way of other English goalkeepers around the squad like Fraser Forster, John Ruddy and Ben Foster as well.
"They are par for the course. What I'm interested in as a coach is to see the reaction to a mistake."
Harper and Kiely were speaking on BBC Radio 5 live.