Jack Wilshere: Wenger criticises midfielder's smoking
Last updated on .From the section Football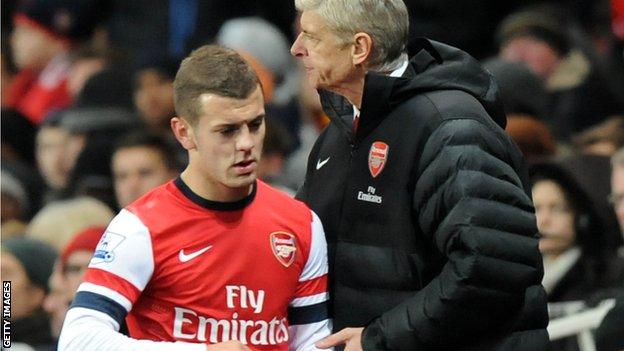 Arsenal manager Arsene Wenger has said Jack Wilshere's smoking is unacceptable and will challenge the player about it.
Wenger said: "I disagree completely with that behaviour. When you are a football player you are an example and you don't do what damages your health.
"I don't really know what happened, so I will need to have a chat with him."
He added: "You can damage your health at home - you can smoke at home and you can drink at home - and nobody sees it, but when you go out socially you also damage your reputation as an example."
Wenger said the incident is "more shocking" because of the different attitudes towards smoking in England compared to other European countries.
"English society is very sensitive to smoking, much more than France and southern (European) countries.
"I travelled as a football player on coaches after games in France where you didn't see each other there was so much smoke. Everybody smoked, but times have changed."
The Arsenal number 10 has been in and out of Wenger's starting line-up this season, but the Frenchman insisted he remains a key player.
"All my plans for the future at the club have always been built with Jack and around Jack" said Wenger. "We had some setbacks with him - a lot - but he is a very important player in my squad."
Wilshere was named in England manager Roy Hodgson's squad for the upcoming World Cup qualifiers against Montenegro and Poland and is expected to feature for Arsenal against West Bromwich Albion on Sunday.