Truro City bring in Ben Watson and Aaron Pugh
Last updated on .From the section Football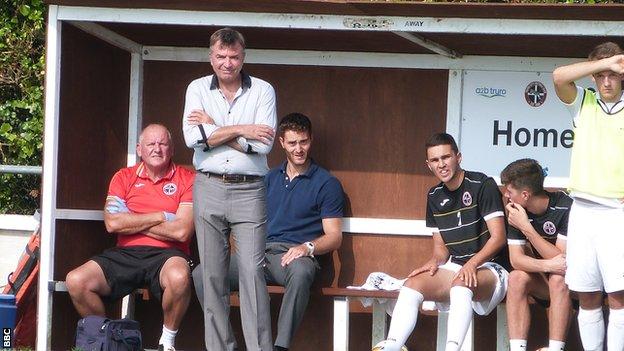 Truro City have strengthened their squad by signing striker Ben Watson and defender Aaron Pugh from Conference South side Dorchester City.
Watson, 27, made five appearances for Exeter City between 2008 and 2011.
"I've done a lot of talking this week. You can chase a player for months sometimes. It's being at the right place at the right time," boss Steve Massey told BBC Radio Cornwall.
"You don't need to be a brain surgeon to see that we've not been able to put the ball in the back of the net and I've been searching for a guy to do that.
"Having said that, we have some really good youngsters. It's not that they're not good enough: it's the timing - they're not the finished product.
"I always knew that we needed strengthen and maybe we need to strengthen sooner than I thought."
Watson and Pugh could both feature in Truro's clash with St Albans, their first outing since a 3-2 FA Cup defeat by Brislington, a result which prompted a furious Massey to brand his players as an "embarrassment" to the club.
"It's consigned to history now - we've drawn a line in the sand and we move on now," he said.
"I'm really looking forward to the game against St Albans to bury the disappointment of the FA Cup result.
"It's really frustrating. We are close in so many areas and it's just confidence which is everything in football, especially in the strikers.
"It's not just saying 'he's not good enough' and he's out, it's trying to nurture, encourage and develop the players we have."