Guernsey FC priority is league, says manager Tony Vance
Last updated on .From the section Football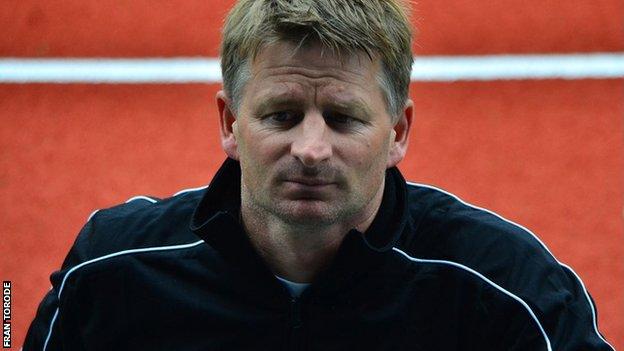 Guernsey FC boss Tony Vance says the club is thrilled to be in the FA Trophy for the first time but admits the league remains his priority.
The Green Lions face Barkingside in the preliminary round on Sunday after being knocked out of the FA Cup.
Vance was named the Ryman League South manager of the month for September after four straight league wins.
"The league is our priority but the FA Trophy is another iconic competition to be involved in," he told BBC Guernsey.
"There's a long way to go in the league. You've just got to stay with the pack because you're always one result away from slipping into mid-table.
"We're delighted to get the chance to play in the FA Trophy and the reward if we can get a result could be a home draw and finally the public will get the chance to have an FA competition at home.
"We'll have to work very hard. We seem to be everybody's cup final."
Vance said his side's achievements this season were all the more impressive considering they are, for the most part, competing against semi-professional teams.
"The bottom line is we're amateurs and we're in a league against semi-pros," he said.
But Vance did raise the prospect of Guernsey needing to follow suit at some point in the future if the club wanted to keep progressing.
"The guys at other clubs are paid so if they don't turn up, they don't get paid," he said.
"I'm not saying we have to go down that route but my job is different to that of the UK-based managers.
"We have financial restraints where players have to work, plus they have emotional considerations with families. That, plus injuries, is why we're always short of players.
"How do we change that? We have to walk before we can run but changing that policy at some time would help if we're to push on.
"But the commitment of the players is absolutely fantastic. Most of them concede 10 or 12 holiday days or days of paid work a year."