Norwich City: Chris Hughton angered by racist comment
Last updated on .From the section Norwich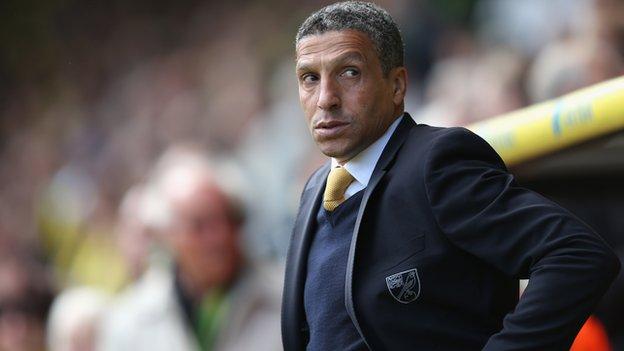 Norwich City manager Chris Hughton says he is "angry" about an alleged racist comment made about him on social media.
The comment, which was found on an unofficial Facebook page promoting discussion between rival fans, is being investigated by police.
"Does it make you angry? Of course it does, but it is very difficult to stamp out completely," said Hughton, 54.
"As manager at Norwich it is something I should not have to deal with or be involved in but that is the case."
The comment, which appeared shortly after Norwich's 1-0 win at Stoke City but has since been removed, has been reported to police as a hate crime by anti-racism group Kick It Out.
Hughton, who began his playing career at Tottenham in 1977 before becoming an assistant manager at the club in the late nineties, is frustrated by the distraction the incident has caused ahead of his side's Premier League fixture with Chelsea.
"It is something I shouldn't have to deal with in this day and age," added the former Newcastle United manager.
"I was brought up in an era where the percentages (of racism) were an awful lot higher and there are a lot of fine organisations that have worked incredibly hard, the 'Kick it Out' campaign, 'Show Racism the Red Card', the FA [Football Association], the PFA [Professional Footballers' Association], over the years to make sure this type of abuse doesn't exist.
"I am very saddened and disappointed. Unfortunately we are in an age where, through the social medias, it is accessible for anybody to air their views.
"Thankfully there are mechanisms in place that can pick out the perpetrators and the companies have to make sure that becomes a priority.
"There have to be guidelines so people can be made accountable."
Norwich City pledged their full support over the reporting of the incident to authorities and stressed the page on which the comment was found was not officially affiliated to the club or local rivals Ipswich Town.