Leighton Baines gets England call in Ashley Cole's absence

By Kevin Kilbane
Former Republic of Ireland international
Last updated on .From the section Football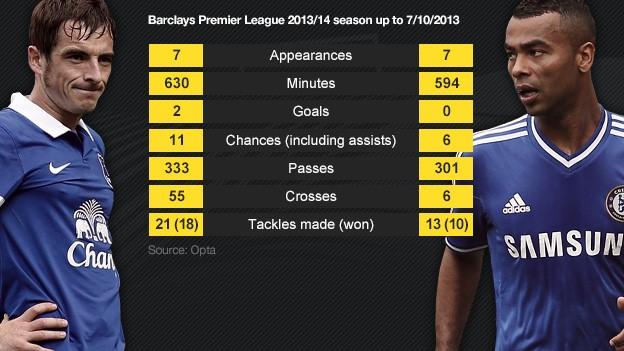 Ashley Cole's absence from England's crucial World Cup qualifiers against Montenegro on Friday could end up being a blessing in disguise.
The Chelsea left-back has been a loyal servant to the national team, but I felt England manager Roy Hodgson should have selected Everton's Leighton Baines ahead of him even if Cole had been fit.
Statistics suggest Baines has been at least twice the player Cole has over the past five years - in attack, at least. But do statistics really tell us who is England's best left-back?
Managers, coaches, players and, yes, even those of us in the media, are becoming increasingly obsessed with stats. Chairmen, chief executives and directors of football are also keen to find out what a player can or cannot do and sometimes stats determine whether a player is signed or not.
I am sure Hodgson utilises every possible tool in terms of player analysis and game preparation. Which leads to the question: when they are both fit, why doesn't he pick Baines over Cole?
Arguably, both players could be accommodated in the England side, but that would mean playing one in an unfamiliar role.
For the penultimate qualifier at least, Hodgson's decision has been made for him, although it is not clear whether Cole will be fit for the final match against Poland on Tuesday.
Many consider 32-year-old Cole the best left-back in the world over the past 10 years. He has consistently proved his value with some incredible big-game performances, never more so than with his display in Chelsea's Champions League win against Bayern Munich in 2012.
he is one of the most decorated left-backs in the history of the game. In contrast, 28-year-old Baines has 19 caps and no significant club honours.
Between the start of the 2008-09 season and the end of 2012-13, Cole made 162 Premier League appearances, scoring seven goals and making 14 assists. During the same period, Baines made 177 appearances, with 16 goals and 33 assists.
While this shows Baines to be the more potent attacking threat, you have to factor in that Chelsea have been less reliant on their left-back as an attacking option than Everton.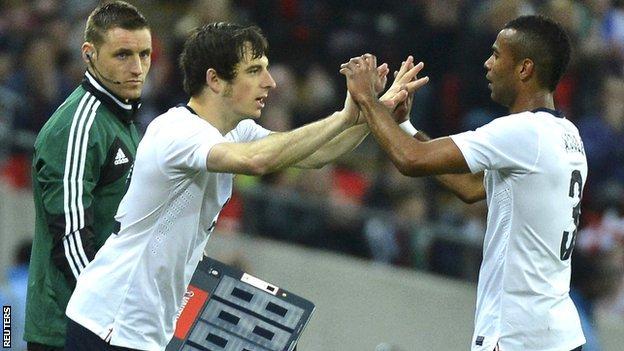 It appears that modern-day full-backs at the top end of the game are judged more on their attacking abilities than anything else, but they still have to realise their responsibilities defensively, especially in the big games.
And they do not come much bigger than England's games against Montenegro and Poland, with a place at the 2014 World Cup finals in Brazil at stake. One lapse in concentration could be costly.
There is nobody better than Cole at timing when to get forward and when to sit alongside his defence.
Yet the statistics show us that Baines has at least equalled Cole defensively in the Premier League over the past two seasons, when data for tackles made and won, duels (50/50 balls), clearances and blocks are accounted for.
I played in front of Baines at Wigan and knew he would overlap me as soon as I received a pass slightly in-field. Of course my responsibility was always to fill in holes if teams countered with him out of position.
It does not have to be done that way. I also played with Ian Harte for the Republic of Ireland and he was very different in terms of style and would support behind the play. He would use his outstanding passing ability because he did not have the pace of Baines.
In my opinion, both Cole and Baines are world class. Looking at the left-backs who feature for the national teams in Fifa's top 10-ranked countries, I believe both England men are equal to or better than their counterparts in those teams.
So we come back to the comparison between them. Cole is better defending one-on-one, while Baines is better technically. David Beckham proved his worth to England during tight matches from set plays and Baines' ability - to score or create goals - in these situations may give him the edge.
Although I am a big believer that the naked eye can tell you a lot more than the stats ever can, I would have sided with the stats and gone for Baines this time, even if Cole had been passed fit. Just.