Adnan Januzaj being monitored by England - Roy Hodgson
Last updated on .From the section Football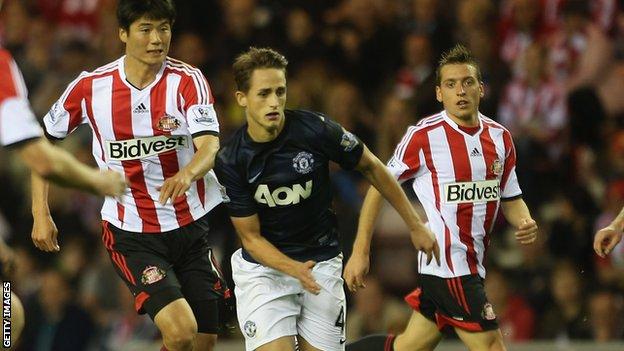 Manchester United midfielder Adnan Januzaj is being monitored by England, according to national boss Roy Hodgson.
The Belgium-born 18-year-old scored twice on his full debut as United came from behind to beat Sunderland 2-1.
Januzaj has been at Old Trafford since 2011, and Hodgson told Match of the Day he could one day play for England.
"There's no doubt that he's a real talent and we have our eyes on him but a lot will have to be discussed," said Hodgson.
"He's been with United for a long period of time and of course that discussion will have to be seriously debated before we start naturalising players.
"Yes [he could play for England] down the line if he becomes naturalised or if he becomes a homegrown product."
Januzaj, who is of Kosovan descent, is eligible to play for several other countries including Belgium, Albania and Turkey.
Manchester United boss David Moyes admitted in his post-match news conference that the Football Association had been in touch with the Old Trafford club about Januzaj's eligibility.
"Yes. There is some way he has a chance of qualifying for England through residency," said Moyes.
"I think he's got a choice of countries to play for. He's got probably three or four different countries he could choose to play for.
"Obviously, he has been called up by Belgium several times and chosen not to at the moment, and he's wanted by, I think, Albania, Croatia and a few others as well."
United were trailing 1-0 at half-time against Sunderland after midfielder Craig Gardner capitalised on poor defending to give the hosts the lead after five minutes.
But Januzaj inspired a second-half turnaround, scoring a 55th-minute equaliser by sliding in from Patrice Evra's cross before volleying home the winner six minutes later.
It was an impressive display from the youngster, prompting Moyes to liken his emerging talent to that of Wayne Rooney when the England striker first broke through at Everton in 2002.
"He is a real talent," added Moyes.
"I gave Wayne Rooney and Ross Barkley their debuts at Everton and he is certainly in their category too.
"He is someone who we think a lot of and I have tried to get him in the team over the last few weeks but for various reasons it did not happen.
"He is a really good player, he can do most things and play in lots of different positions."
United are currently in discussions with Januzaj over a new long-term contract, with his current deal expiring at the end of the season.
Asked about the latest on those talks, Moyes said: "I think all young boys want to play for Manchester United.
"I don't know a better place to do their work and have the coaching at a club that promotes young players.
"If I was the dad of a young player who had the chance to go to Manchester United I would think 'he could get in the first team because that's a club that promotes young players.' And hopefully he would see a manager that promotes young players because that's part of my remit."
Januzaj's goalscoring display also eased the pressure on Moyes following successive league defeats by West Bromwich Albion and Manchester City.
The win moved United up to ninth in the Premier League, six points behind leaders Liverpool.
"I am pleased we have won, but I am not going to get too excited," said Moyes.
"We needed it [the win] but I wasn't getting too low. I thought it was exciting and I enjoyed it today."