Adnan Januzaj is the bright new star of Manchester United

By Phil McNulty
Chief football writer
Last updated on .From the section Football977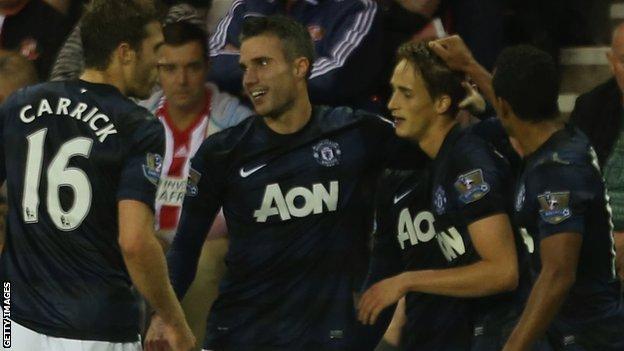 Robin van Persie has made world-class quality his trademark - so it was no surprise he headed straight to Manchester United's precocious teenager Adnan Januzaj amid the celebrations at the Stadium of Light.
Van Persie's relatively brief United career has been sprinkled with match-winning moments and he will have recognised something of himself in the manner of 18-year-old Januzaj's spectacular contribution to a vital 2-1 win against Sunderland.
And while there have been whispers about Januzaj's quality around Old Trafford for some time, they turned to a scream once he had produced the decisive contribution and announced the arrival of a special talent.
United - despite manager David Moyes' fanciful claims that they more or less dominated the whole game against the Black Cats - were only in the process of exerting their superiority when Januzaj ensured some of the clouds gathering over the Premier League champions and their new manager rolled away into the Wearside night.
Januzaj, who had already impressed with his passing and subtle attacking play, showed composure to send a thumping side-footed shot past Keiren Westwood from Patrice Evra's cross after 55 minutes - but it was his winning goal six minutes later that carried the real hallmark of all outstanding players.
Yes, there was a danger when John O'Shea half-cleared a cross, but the punishment was heavy as Januzaj adopted the perfect position and faultless technique to send a low left-foot volley into the bottom corner and snuff out all the resilience that had given Sunderland's interim head coach Kevin Ball so much encouragement.
It was the sort of finish Van Persie has delivered countless times in his career and his appreciation was clear as he embraced Januzaj in front of United's joyous supporters after the final whistle.
Moyes, who gave Wayne Rooney his debut at 16 at Everton and already places Januzaj in the same bracket at that stage of his career, also came across to offer his own words after the final whistle.
And various items are now on the Manchester United manager's agenda.
Moyes must judge how to develop and nurture Januzaj, whose performance loudly demanded a place in the United starting line-up - certainly when placed alongside another fitful performance from Nani.
He must also do it while Januzaj wrestles with pressing issues regarding his future for club and country.
The boy prodigy who was signed by Anderlecht at 10 and moved to Manchester United in March 2011 will be in high demand, even more so after lacing his first Premier League start with such brilliance.
Moyes' main concern will be tying Januzaj to a new contract once his present Old Trafford deal expires at the end of this season. He made all the right noises about Manchester United's pedigree and track record of promoting young players - but their efforts to secure his signature must now take on added urgency.
For all Moyes' optimism, it does not take a huge leap of the imagination to suspect forces from Europe's other footballing superpowers will be at work while there is the slightest chance of prising him away from Old Trafford.
Securing the new contract must now be near the top of United's priorities after watching the way in which Januzaj was the catalyst for a victory that at least goes some way to banishing the bitter memories of Premier League losses to Manchester City and West Bromwich Albion.
Januzaj's background makes him eligible for Albania, Kosovo, Turkey and Belgium. It is believed the player's family have advised him against making a commitment until he has secured a first-team place at club level.
He has now done that at United - and Moyes revealed the Football Association has already made inquiries about Januzaj's eventual availability for England based on residency.
It sounds like a desperate shot in the dark by the FA but it cannot be blamed for trying - even though there are serious factors weighing against them.
A player of such quality and ambition is unlikely to wait to qualify for England when there is the opportunity to play for Belgium, emerging so quickly as a force with a new generation of players capable of making an impact at next summer's World Cup in Brazil.
Not great timing for England's declaration of interest.
For now, United can celebrate the addition of such a gifted new star to their ranks and how they needed him.
The graceful Januzaj illustrated a wide range of passing, a willingness to take players on and also a determination to shoot when the opportunity arose. He did it with deadly effect despite the fact that close Old Trafford observers report his finishing as one of the weak elements of an almost-complete attacking game.
If Januzaj, understandably, claims the headlines, goalkeeper David de Gea was not far behind because Moyes could have been discussing an entirely different story had it not been for a magnificent save with United trailing to Craig Gardner's early goal.
Emanuele Giaccherini was turning away to celebrate when De Gea flew away to his right to show outstanding athleticism and anticipation to turn his header away. It kept United in the game and enabled Januzaj to shape later events so spectacularly.
This was not a flowing United but victory was all that mattered.
And, even though the season is in its infancy, it was clear they needed a spark from somewhere to act as ignition.
Januzaj, the bright new star of Old Trafford, may just have provided it.