England keeper Joe Hart needs thick skin, says Peter Shilton
Last updated on .From the section Football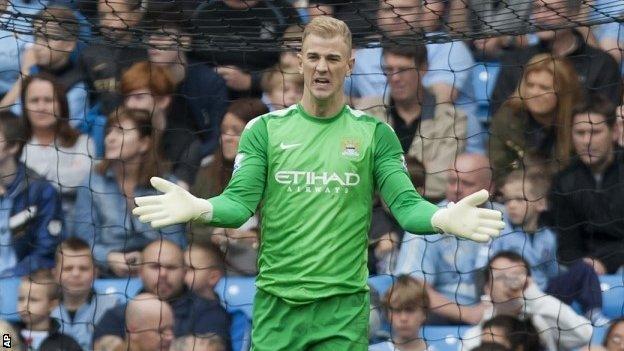 Manchester City and England goalkeeper Joe Hart needs to be "thick-skinned" to deal with the criticism levelled at him for making errors, says Peter Shilton.
England boss Roy Hodgson has stood by Hart ahead of World Cup qualifiers against Montenegro and Poland.
"You've got to be thick-skinned," ex-England keeper Shilton told BBC Sport.
Shilton made a mistake when England failed to qualify for the 1974 World Cup as they were held to a 1-1 draw by Poland at Wembley, with visiting keeper Jan Tomaszewski having an outstanding game.
"I learned from that error," the 64-year-old added on BBC Radio 5 live's Sportsweek programme.
"But if you make too many errors and you are England goalkeeper, people are going to point the finger and put more pressure on you every time.
"Being a goalkeeper is like being the prime minister, as you're up there to be shot at.
"There's no easy way out of these situations but to roll your sleeves up, work hard, play well and keep clean sheets."
Shilton, who made a record 125 England international appearances, believes Hodgson is right to back Hart, adding: "It is a difficult decision but the right one.
"We've seen in the past you can bring in goalkeepers who are not experienced for big games and it's a no-win situation because if they make a mistake, the manager has made the wrong decision and if he keeps Joe and the same thing happens, then vice versa.
"Competition is vital because you can't have players thinking they're going to walk into a team because it's a natural thing to get complacent. You sometimes don't know you're doing it but it can creep in.
"We do need three goalkeepers, a couple of great ones, that we can rely on because Joe could get injured."
Hart has 35 international caps and is expected to start both games at Wembley - on Friday against Montenegro and the following Tuesday against Poland.
Fraser Forster of Celtic and Norwich's John Ruddy provide back-up in the latest England squad but, Hodgson declared he has "great faith" in his number one.
He said: "I believe that Joe will shrug this off. I'm sure he's not happy to let in goals that he feels he could've stopped.
"But as far as I'm concerned he's never let me down, so I have every confidence and faith in him."
Dejan Damjanovic, who scored past Hart in the 1-1 draw in Montenegro in March, believes criticism of the former Shrewsbury keeper is unwarranted.
Speaking on BBC Radio 5 live's Sportsweek programme, he said: "He's one of the best goalkeepers in the world and you don't need to put pressure on him.
"I would love it if he came to play for Montenegro."