Greg Dyke's England vision backed by Hugh Robertson
Last updated on .From the section Football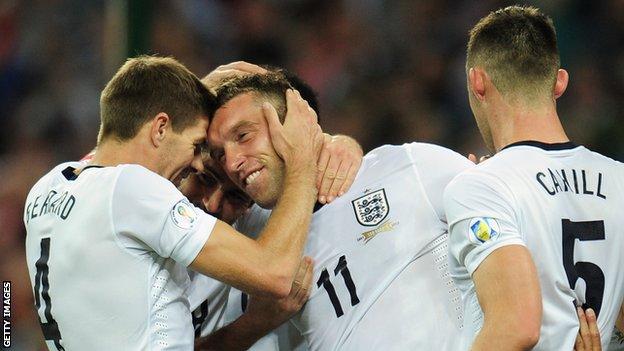 Football Association chairman Greg Dyke is taking the right approach to improving the England side, according to Sports Minister Hugh Robertson.
"Greg Dyke has quite correctly worked out that winning the World Cup will be the single best thing you could do for English football," said Robertson.
"I absolutely applaud his vision and ambition."
Dyke, 66, wants to address what he calls the "frightening trend" of the reduction in the number of English players in the Premier League.
He has set up an FA commission, which top-flight clubs have backed, to look into how England can improve its long-term prospects.
"The FA's mission and Greg's mission is very simple," Robertson told BBC Radio 5 live's Sportsweek programme.
"The FA is a complicated organisation in many ways but it has to do two things. It has to give England the best chance of winning the World Cup and it has to get more people playing football at grassroots level.
"It's as simple, or as complicated, as that. He has focused on the first of those two priorities and due credit to him. It's a good thing to see."
Dyke replaced David Bernstein, who took the role in 2010, in March.
"We must try to do everything to try to win that World Cup, but football doesn't help itself by constantly changing its chairman," said Robertson.
"In my three and a bit years as sports minister - and this is before I calculate the six that I saw when I was in opposition - I am now on my fourth FA chairman.
"That doesn't allow them to develop relationships with government or with international bodies, and that does not reflect well on football."
Bernstein was forced to relinquish the post when he reached 70 under FA rules.
"David Bernstein was an outstanding chairman," added Robertson. "This should not reflect on Greg Dyke but the decision to take him out at the age of 70 is ill-judged.
"Greg Dyke is another man who has made an extraordinarily positive start.
"He seems to be doing all the right things and we are going to lose him in a couple of years. It is tragic."