Robbie Savage: Arsenal have steel - and a plan B in attack
Last updated on .From the section Football

In his regular BBC Sport column on football tactics, Robbie Savage watches Arsenal return to the top of the Premier League with a hard-fought draw against another in-form team, West Brom.
This was not a free-flowing display from the Gunners, but the way they played was a demonstration of why they are the pacesetters going into the international break - and genuine title contenders again.
Against the Baggies, Mathieu Flamini underlined his importance to Arsene Wenger's side as a shield in front of the centre-backs.

In front of Flamini, Arsenal's more creative players did not have their most productive day because of how solid West Brom were in midfield.
But the different attacking options available to Wenger when he has a fully fit squad will give him a lot of encouragement.
Arsenal look solid - but miss their widemen
Flamini could turn out to be Arsenal's most important player this season.
I was surprised when they brought him back to the club but, the fact is, he gives Per Mertesacker and Laurent Koscielny so much more confidence when they are behind him.
He protects his defenders and organises the players around him too.
Wenger will have some decisions to make about who else fits into his midfield when the likes of Theo Walcott and Santi Cazorla return from injury.
But, when he has a fully fit squad, he will have the ability to pick a team best suited to breaking down the opposition.
That did not happen against West Brom because, with fast and naturally wide players like Walcott, Alex Oxlade-Chamberlain and Lukas Podolski unavailable, many of the Gunners' attacks were very narrow.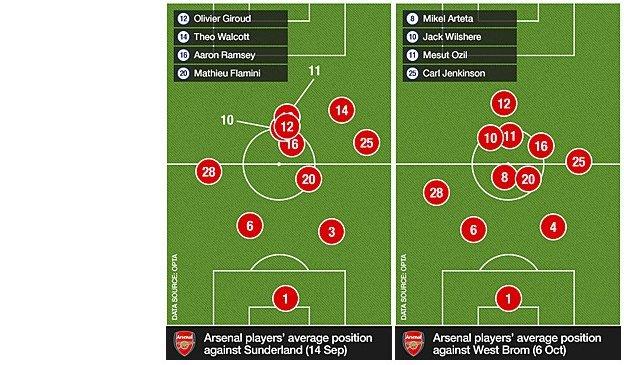 Jack Wilshere, Mesut Ozil and Aaron Ramsey, the three attacking midfielders in their 4-2-3-1 formation, were up against the middle of a Baggies defence that was screened effectively by Youssouf Mulumbu and Claudio Yacob.
The lack of space in the centre of the pitch meant Ozil was forced deeper than he has been playing with great effect in previous games - such as his debut against Sunderland last month or in the Champions League against Napoli in midweek - although he still had a hand in his side's equaliser.
And, with Walcott absent and Wilshere struggling to get into the game on the left side of that midfield trio, Arsenal had to look to their full-backs to offer the sort of threat through pace and width that we are used to seeing from Wenger's side on the counter-attack.
Kieran Gibbs and Carl Jenkinson both got forward well down the flanks but, for the most part, West Brom dealt with them comfortably.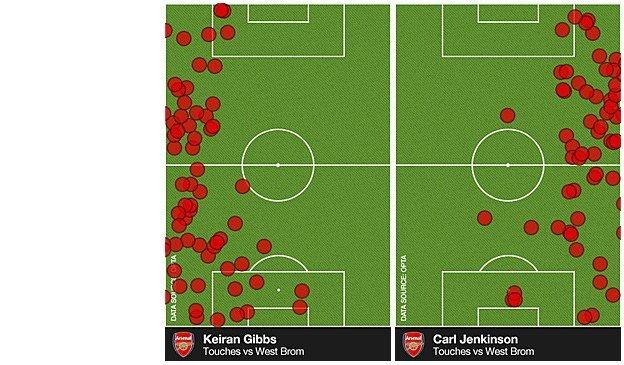 Pace means Wenger will have a plan B
In the second half we saw an example of how Wenger can switch things around when he brought on Tomas Rosicky to play on the left and moved Wilshere inside, just before he scored the equaliser.
Once Walcott and Cazorla are fit again, I think we will see an even more flexible Gunners line-up. And I think Wenger will enjoy having the problem of who to leave out.
I think Cazorla has to play as part of that attacking midfield trio alongside Ozil and Ramsey.
And I see Wilshere dropping back to play as a more defensive-minded midfielder alongside Flamini, meaning Mikel Arteta would be the unlucky man to miss out.
Walcott, in theory, could come into any of the attacking positions - including replacing Olivier Giroud as their main striker.
He might start more games than he likes on the bench, but he can make a difference from there too.
We saw against Napoli in midweek, when Ozil pulled the strings, that Arsenal's system can work without the sort of out-and-out pace Walcott offers.
Against West Brom, it didn't work so well. But, when that happens again, Walcott - or Podolski or Oxlade-Chamberlain for that matter - could offer Wenger something he has not had for a while: a plan B.
Why are the Gunners contenders again?
If you study the stats, not a lot has changed with the current Arsenal side from the team that finished fourth in the Premier League last year.
| Arsenal (rank in Premier League) | 2012-13 | 2013-14 so far |
| --- | --- | --- |
| Total passes | 21,110 (1st) | 3,638 (3rd) |
| Passing accuracy | 85.62% (2nd) | 85.21% (3rd) |
| Average possession | 57.98% (1st) | 53.28% (3rd) |
| Shots for | 423 (7th) | 73 (8th) |
| Goals scored | 72 (3rd) | 14 (2nd) |
| Shots against | 402 (3rd best) | 90 (10th best) |
| Goals conceded | 37 (2nd best) | 8 (joint 9th best) |
| Goal difference | +35 (3rd) | +6 (2nd best) |
The only real difference comes in terms of possession. Arsenal still see more of the ball than most other teams in the league but, at 53.28%, their average possession this season is the lowest it has been in any of the last 10 campaigns.
But the biggest change in this Arsenal team is their confidence. They look like title contenders again, and they know it.
The reason for that belief is primarily the signing of Ozil, who has lifted the whole club, but also down to the fact they have carried on their form from the end of last season to the start of this one.
Part of that consistency comes down to the fact they did not lose any significant players from last season either.
Wilshere apart, they did not have any stand-out stars that other big clubs wanted to sign, but it gives them the most settled look of all the title contenders.
This is Arsenal's best chance of winning the title since their last triumph in 2003-04. For me, it is a race between them, Manchester City, Chelsea and Liverpool. The best I see Manchester United or Tottenham managing is fourth.