Harry Redknapp: FA bosses 'do not have a clue'
Last updated on .From the section Football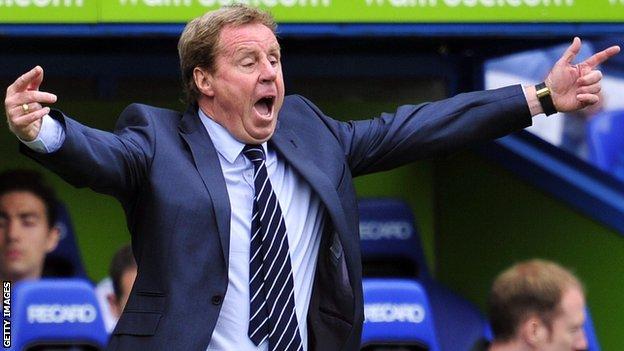 Harry Redknapp says that Football Association senior officials do not have the knowledge required to choose the best England manager.
"I wouldn't trust the FA to show me a good manager if their lives depended on it," he wrote in his autobiography, serialised in the Daily Mail.
Redknapp, 66, says he holds no grudge against Hodgson after the decision.
But he insists he was the leading choice with England fans and players, claiming senior players texted him to offer him their support.
"This isn't about them giving the England job to me or Roy Hodgson, but English football being run by people who really haven't got a clue - and they get to pick the England manager," he said.
"Everyone said I was the people's choice, the only choice. All the senior players seemed to be up for me to get the job.
"I got quite a few text messages at the time from players saying they would love me to manage England: Steven Gerrard, Wayne Rooney, Rio Ferdinand, John Terry.
"But the FA went for Roy Hodgson to be the England manager - a man who is more their cup of tea."
Redknapp, who was manager of Tottenham when the decision was made, said he wanted Liverpool boss Brendan Rodgers - then with Swansea City - to be his assistant.
"My thinking on Brendan was this: if he can do it with players from the lower leagues at Swansea what can he do with Rio and Terry or Rooney and Gerrard?" he added.
"So when Tottenham played Swansea on 1 April, 2012 I pulled Brendan after the game and said that if all the speculation about me and England was true would he consider coming to the European Championships in the summer as my part-time coach?
"I told him I wanted England to play with as much technical ambition as Swansea. He was up for it.
"Some Tottenham fans might think I was distracted from my club job, but I can assure you the conversation took five minutes. And we beat Swansea 3-1 that day."
Redknapp's side won just twice in 10 matches following Capello's resignation, and he was sacked in June 2012 before taking over at QPR the following November.