Criticism of Wales boss Chris Coleman 'ridiculous' says Pulis
Last updated on .From the section Football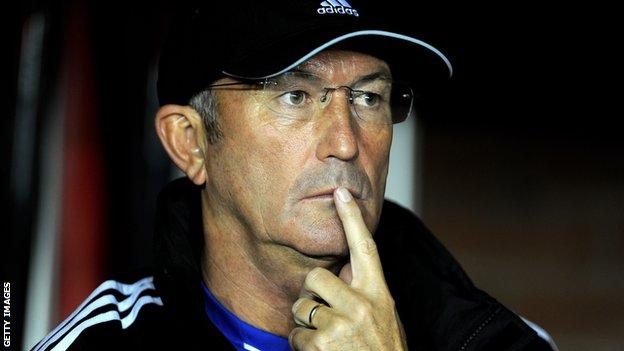 Speculation about the future of Chris Coleman as Wales boss is "ridiculous", says former Stoke manager Tony Pulis.
Coleman's current contract as national manager runs out in November.
Football Association of Wales chief Jonathan Ford has hinted Coleman's future could depend on results in the next two World Cup qualifiers, against Macedonia and Belgium.
"I think it is ridiculous to be talking about Chris Coleman's position," said Welshman Pulis.
"I really think that and people in Wales have got to give people a chance. I don't think Chris has had a fair crack, in respect to the criticism he has had."
Coleman has said he is undecided whether he will sign his new contract and admits his career as Wales manager could be decided by their final two World Cup qualifying games.
The FAW has been in ongoing contract talks with the 43-year-old, who was appointed in January 2012 on a two-and-a-half-year contract following the death of Gary Speed.
Ford, the FAW chief executive, said in September talks over a contract extension were ongoing.
"Clearly he needs to ensure we have a good couple of matches and let's hope we have that," Ford said.
Wales are bottom of their World Cup qualifying group following defeats by Macedonia and Serbia in September.
Ford's statement appeared to be a step back from his comments in August when he said: "Personally I think Chris is doing a fantastic job, let's hope he stays with it."
Pulis, who left his position as Stoke manager by "mutual consent" in May, is regarded as one of the favourites to succeed Coleman as Wales manager should the FAW look elsewhere.
He believes Coleman took on an "almost impossible job" when succeeding "Welsh legend" Speed.
"Things haven't gone his way, but there have been reasons for that and give the fella a chance," Pulis added.
"Let's get some stability at that level. We have some good players, but good players have to be on the pitch.
"I don't think Chris has had enough games when his best players and best team have played.
"It is very important people recognise that. The problem we have got is that everybody wants instant success, instant progress and it doesn't happen.
"Chris Coleman should be given time and two tournaments and judge him after two tournaments. Give him the chance and the opportunity."