Russell Crowe: Cambridge boss considered Gladiator appeal
Last updated on .From the section Cambridge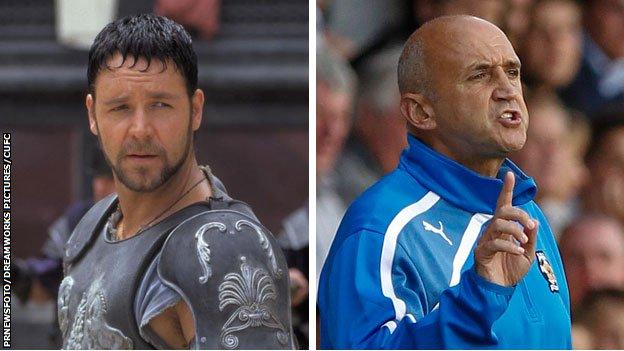 Cambridge United boss Richard Money has criticised a lack of passion from some fans and said he wanted to re-enact a famous scene from the film Gladiator in Saturday's 1-0 win over Hereford.
The U's went seven points clear at the top of the Conference Premier table.
But Money felt his side deserved more backing in the first half.
"I wanted to walk into the middle of pitch like Russell Crowe [saying] 'Are you not entertained?'" the 57-year-old told BBC Radio Cambridgeshire.
"We did entertain them - but it was as quiet as a mouse."
In Gladiator, Russell Crowe's character Maximus Decimus Meridius slays a series of opponents before addressing the question to the Roman crowd.
Cambridge, who lost their Football League place in 2004-05, have now made their longest unbeaten start to a season, extending that run to 13 games and eclipsing the sequence put together by Jimmy Quinn's side in 2007.
But after Kwesi Appiah's seventh-minute goal against Hereford in front of a crowd of 3,381, the U's were unable to finish off their opponents and were pinned back for periods in the second half.
After the match, Money pointedly applauded all sections of the support apart from the Main Stand, from where he felt his side had received undue criticism.
He said: "The second half we got under pressure and people are saying 'push up'. Do they not understand the game?
"We're talking about managing the game. We have to manage the game.
"I think I'm right in saying we're now seven points clear. I think I'm right in saying that's the club record start to the season.
"And for the last 10 minutes you would have thought we were in the bottom four. It's not acceptable - not good enough."