Mario Balotelli: Cesare Prandelli 'won't give up' on Italy striker
Last updated on .From the section European Football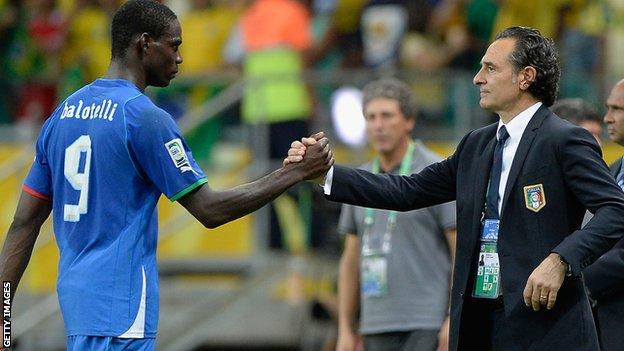 Italy coach Cesare Prandelli says he will not give up on Mario Balotelli after he was criticised for picking the AC Milan striker in his latest squad.
He was sent off after allegedly threatening to kill referee Luca Banti.
"We can't lose our motivation to help this kid become stronger and better balanced, because he's one of the best players we have," said Prandelli.
"Of course I'm angry. But everyone who saw what happened and wants well for Mario should be angry."
Prandelli, whose side have already sealed their place in next year's World Cup finals in Brazil, face Denmark and Armenia in their remaining qualifiers and the coach said he was happy to select Balotelli for the games.
"I decided to call him up because that's our way to handle these things, to look each other in the eye in the changing room, discuss it and agree it will never happen again," he said.
The Azzurri coach did not select Balotelli for a friendly against the United States last year when he was serving a four-match ban for stamping on Tottenham's Scott Parker in the Premier League and said that would apply again if the circumstances were the same.
"If there was one more match on the ban, Balotelli would not be here. Period. There would be nothing to discuss. I've never called up a banned player.
"I'm tired of these crusades against Balotelli. When everyone is against somebody I like to defend that person."
Prandelli has also refused to rule out an international return for 37-year-old Roma captain Francesco Totti.
Totti, who retired from the national side after helping the Azzurri win the 2006 World Cup, has been linked with a return after helping the Giallorossi open the Serie A campaign with seven straight victories.
"If the World Cup was in 20 days, I wouldn't have any doubt. Totti would come," said Prandelli.