Tom Bradshaw: Wales U21 striker released for Shrewsbury duty
Last updated on .From the section Football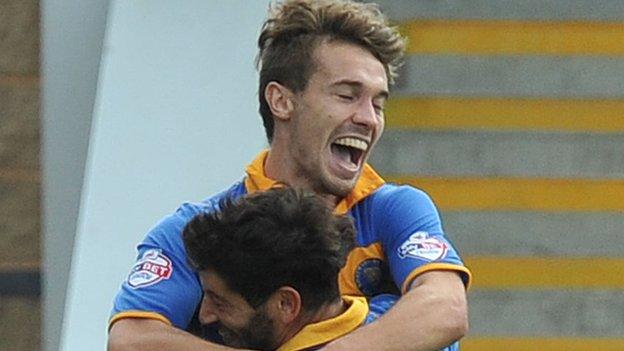 Shrewsbury Town have been allowed to withdraw striker Tom Bradshaw from Wales Under-21 duty so he can play in Saturday's home game with Gillingham.
Bradshaw, who has netted half of Town's 10 League One goals this season, had been called up for this week's Uefa Under-21 Championship matches against Lithuania and San Marino.
But Town boss Graham Turner has asked successfully for Bradshaw's release.
"What he wants to do is concentrate on getting goals for us," said Turner.
Shrewsbury-born Bradshaw, 21, grew up on the mid-Wales coast in Tywyn before moving back to Shropshire with his parents to improve his chance of making it as a professional footballer.
He made to a great start when he scored two goals on his league debut in April 2010, but subsequently lost his way and managed just eight goals in 68 further appearances up to the end of last season, the majority of which came off the bench.
But, having not scored a single goal last term, the gamble in giving Bradshaw a new one-year contract in May has so far paid dividends.
And, at a time when his team are otherwise struggling up front, the Shrewsbury boss now suddenly finds him indispensible - to the cost of Geraint Williams' team of young Welshmen.
"He went to San Marino last month and only got 10 minutes," added Turner.
"He then went to Moldova and got 30 minutes, and it was 13 hours of travel coming back," he added.
"Two days with very little training is not the right thing at the moment. And the manager of the Wales Under-21 team has agreed that he's probably better off with us."