Truro City boss Steve Massey 'hurt' by 7-3 defeat
Last updated on .From the section Football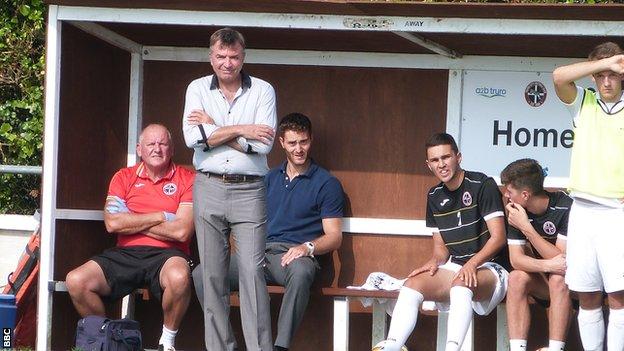 Truro City boss Steve Massey says he has been left "hurt" by his side's 7-3 defeat by St Albans on Saturday.
The White Tigers, who have been struggling for form in recent weeks, were 3-0 down at half-time.
"I've never had seven scored against me before and it hurts," Massey told BBC Radio Cornwall.
"I played with 40,000 Spanish fans booing with Wrexham in Europe and I've been at a bedside with my son on a life support machine - that's pressure."
Massey added: "I wouldn't say I'm enjoying it but I know I'll get it right - it's hurting but the main pressure is the pressure I put on myself to win matches. I believe in myself absolutely.
"It's a crazy game of football - if you weren't here to see that you'd think we'd have had an absolute thrashing and probably St Albans fans at home would see the score and think they were fantastic, but it just wasn't like that.
"We got back to 3-2 and I think there was some panic on their bench and I honestly thought we might stage one of the greatest ever comebacks at this ground.
"You've got to keep believing - it hurts to concede as many as we did, but what killed us was the first three goals. We looked so vulnerable every time we lost the ball.
"It was individual mistakes again which you just can't legislate for. I know it sounds crazy but there were positives out of that game - we'll work hard to make sure we get it right against Poole on Tuesday."