Kettering Town: Winding-up order rescinded for 141-year-old club
Last updated on .From the section Football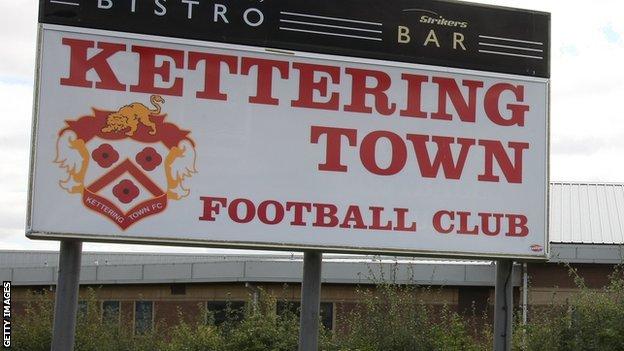 Kettering Town have escaped going out of business in the High Court after their winding-up order was rescinded.
Rushden & Diamonds Ltd, the shell company left over when the club of the same name was had taken the Poppies to court over unpaid debts.
The winding-up petition has not been dismissed, and Kettering must pay off the agreed sum in 28 days.
Poppies chairman Ritchie Jeune says the sum is "narrowly" less than £70,000, and after escaping the winding-up order told BBC Radio Northampton: "I'm very much relieved. As far as we're aware, there are no more skeletons in the closet.
"It'd be nice to focus on the on-field side now and get behind the team and hopefully progress up the leagues."
The club received assistance from their Supporters Trust and football fans worldwide, who helped raise over £30,000 via a fundraising website and charity match.
"We can't thank them enough," said Jeune. "Anyone who did donate, please do send us your address into the club email address on the website.
"We do want to get in touch with as many people as possible to thank them. That support it shocked us all.
"It wasn't just Kettering fans, it was fans from across the country, fans of all different teams and even people from outside the country. It was humbling."
The 141-year-old club also avoided being shut down in June last year.
On that occasion the Poppies to pay a portion of their debts and are recovering 12 months later, since
A year ago the club were in the Conference Premier, non-league's top division, but a series of financial failures has seen them descend to the Southern League Division One Central - a drop from the fifth to the eighth tier of English football within one season.
The money owed to Rushden & Diamonds Ltd - not affiliated with the phoenix club AFC Rushden and Diamonds - is for unpaid rent at the Nene Park stadium.
The ground used to be the home of Rushden but, after their demise, was used by Kettering until they left in the autumn of last year when they could not afford to pay the electricity bill and currently share Burton Park Wanderers' ground.
Southern League Premier Division club Hinckley United had debts of more than £200,000.
Their insolvency petition was lodged by former club chairman Kevin Downes as trustee of a pension fund.