World Cup 2014: Ecuador and Uruguay's growing rivalry
Last updated on .From the section Football173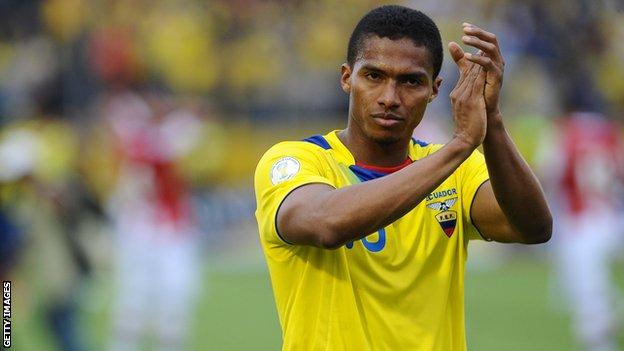 England's bid to reach Brazil next year could be heading towards yet another crunch game with Poland at Wembley next Tuesday, a tie which is rich in World Cup qualifying history. On the other side of the Atlantic, a contest is building up a similar pedigree.
Ecuador v Uruguay in Quito, is a story whose latest chapter will be written on Friday. It is a clash with an agreeable contrast; the first kings of the global game visiting a team which, 25 years ago, were merely making up the numbers.
Indeed, it was a win over Uruguay in the 1989 Copa America which first hinted that Ecuador might be on their way towards better things. Eight years later I could hardly believe my eyes as Ecuador took Uruguay apart with a 4-0 win in World Cup qualification.
Soon afterwards I made my BBC debut; basing my arguments on that game, I said that Ecuador would probably miss out on France 98, but we be strong candidates to make their debut in future tournaments. If all my predictions were as good I'd have put betting companies out of business and be the owner of a Caribbean island!
The subsequent qualification campaigns have followed the same fixtures, with Ecuador at home to Uruguay in the penultimate round. It has always been decisive.
In late 2001 I was in Quito for the match where Ecuador needed only a point to make it to their first World Cup. For some reason I was given the credentials of a photographer, and so I was standing behind the goal. It was the right place to be.
This was not an occasion to be analysed, dissecting the pattern of play from the stands. It was a game to be felt, right up close, to see the sweat fly and sense the nerves jangling, to hear the players trying to encourage those who were struggling, even to dodge the bottles raining down on the Uruguayans at half-time.
They had scored a first-half penalty, but wilted after the break as the effects of the altitude (2,800m above sea level) kicked in. The momentum was all with Ecuador, but their striker, the talented but wayward Ivan Kaviedes, was not having a good game.
I got in earnest conversation with a man from the local FA who was standing beside me. Kaviedes should be taken off, we agreed. He was not doing anything right. And then, inevitably, Kaviedes headed the vital goal. We looked at each other and burst out laughing. Ecuador had the point they needed.
On the final whistle I rushed back to the hotel to watch the other games in the round, and then spent the night writing and broadcasting.
When I wandered out the next morning the streets were ankle deep in broken glass, and all the shops were being opened late by bleary eyed but euphoric staff. It must have been quite a night.
Four years later was a far tamer rerun. Once again Ecuador needed a point to qualify, while a point was good for Uruguay in their quest to finish fifth, the play-off position. A dreary 0-0 draw was the outcome.
But there was no chance of a non-aggression pact in 2009. Both teams were fighting for the play-off spot. The outcome in Quito would go a long way towards deciding the matter.
With home advantage and a two-point lead, Ecuador looked the better bet, especially when Jefferson Montero set up Antonio Valencia for the opening goal with less than 25 minutes to go.
But they overdid the celebrations, lost concentration and within a minute former Manchester United forward Diego Forlan had set up Liverpool's Luis Suarez for the equaliser.
In stoppage time Edinson Cavani won a penalty, Forlan fired into the top corner and the rest is history - Ecuador missed out, while Uruguay qualified for South Africa via the play-offs and went on to reach the semi-finals.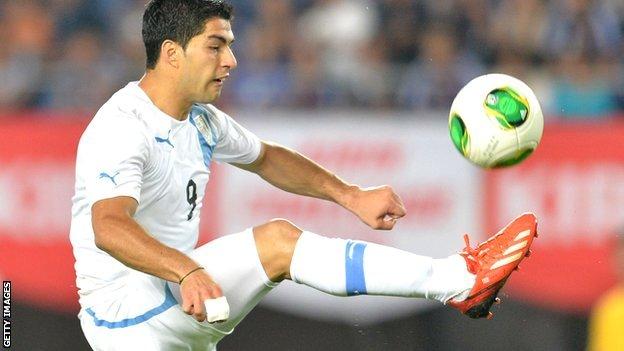 That same combination of attacking firepower and mental strength when it matters has rescued Uruguay in the current campaign. Even the play-off spot looked a long way off a few months ago, but since then they have won away to direct rivals Venezuela and Peru, and beaten Colombia in Montevideo.
This is a splendid sequence of results, and it has brought them level on points with Ecuador but with an inferior goal difference. Depending to a large extent on what happens on Friday, there is a real chance now that Uruguay can qualify automatically, and that Ecuador will have to settle for the play-off.
The form of Ecuador, meanwhile, has suffered a wobble. The tragic early death of Christian Benitez was a blow to morale; another came in a friendly played against a second string Germany in the United States at the end of May.
Ecuador's defensive deficiencies were ruthlessly exposed by the dynamism of their European opponents. Germany were four up after 23 minutes. The South Americans hit back strongly and perhaps ended up deserving better than a 4-2 defeat.
But doubts about their capacity to defend were sown. The team have not subsequently played with the same conviction, accumulating two draws and two defeats in four World Cup qualifiers.
Will they be able to cope with Suarez? And if they take extra defensive precautions, will that interfere with their capacity to impose their attacking game on the Uruguayans, and force a rhythm which the visitors will be unable to keep up for the full 90 minutes?
The burden is on Ecuador to go out and win the game. Without a victory on the road, they travel to take on the dangerous Chileans in the final round, while Uruguay are at home to already qualified Argentina, who will be without Lionel Messi or Gonzalo Higuain.
Whatever happens on Friday, it promises to provide a fresh instalment of memories in the recent but dramatic history of Quito clashes between Ecuador and Uruguay.
Send your questions on South American football to vickerycolumn@hotmail.com and I'll pick out a couple for next week.
From last week's postbag:
Argentina seem to go for two deep midfielders, Javier Mascherano and Fernando Gago. But what of the more box-to-box midfielder? Javier Pastore is a player that is exceptionally versatile, particularly going forward, and who also displays a decent defensive work-rate. Do you see a place for Pastore in coach Alejandro Sabella's system? Dominic Brady
Not when everyone is fit. The line-up is 4-3-3, Mascherano and Gago together with Di Maria in midfield, Messi centralised with strikers Higuain and Aguero opening up space by coming in from wide. There is no role for Pastore in that set up, and he is not in the squad.
His best chance is probably to get in as an alternative to Messi - who will miss the coming games with injury. If Argentina play badly, then Sabella will have to think about a back-up plan, in case Messi is struck down again during the World Cup. Pastore could then come into the equation, although at this stage is looks unlikely.
In your article that discussed South American coaches struggling in Europe I was wondering about the reverse - are European coaches making an impact in South America? Is there an adoption of the coaching badge system like in Europe or is it left for former players to pick up coaching and managerial positions without any formal qualifications? Colum McGrath
About 20 years ago there were a few eastern Europeans around - Croatia's Mirko Jozic won the Copa Libertadores with Colo Colo of Chile, and a few from the former Yugoslavia also played a part in Ecuador's rise. The current coach of Bolivia (who also took them to the 1994 World Cup) is Xabier Azkargorta, who is from Spain as, confusingly, is Manuel Portugal, coach of La Paz club side Bolivar.
Former Barcelona great Jose Bakero recently had a short spell in charge of Juan Aurich of Peru, and left moaning about a lack of professionalism in the local players.
Generally there is no formal qualification requirement - being well connected and having a good agent are far more important. But it's for adventurers only. In South America coaches are usually only ever three games away from the sack.