SFA president Campbell Ogilvie hails Scotland progress
Last updated on .From the section Football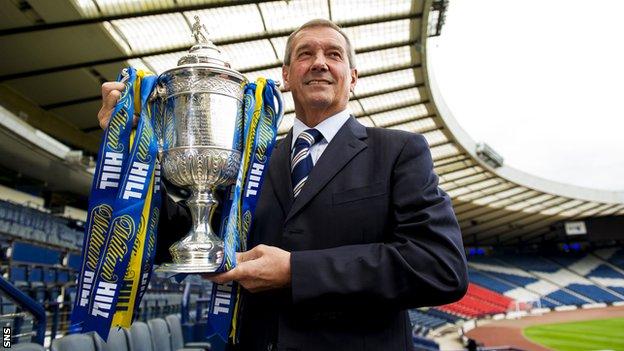 Scottish FA president Campbell Ogilvie believes Scotland have improved under Gordon Strachan and insists league restructuring is reaping benefits.
Scotland have won only three of their seven matches since Strachan was appointed on 15 January, but Ogilvie insists the signs are encouraging.
"I believe things are picking up, they're a lot more positive in the last few games," said Ogilvie.
"I feel we're finishing on the high within the campaign."
Scotland have failed to qualify for an international tournament since the France World Cup in 1998 and can no longer qualify for next year's tournament in Brazil, but Ogilvie remains positive about recent performances in qualifying Group A, which has included wins against Croatia and Macedonia under Strachan's leadership.
Speaking at the draw for the third round of the Scottish Cup, the SFA president insisted recent performances should give Scotland fans grounds for positive expectation ahead of qualifiers for the 2016 European Championship finals in France, which will expand to 24 countries for the first time.
"You've always got to be positive moving forward," said Ogilvie. "We know we haven't qualified since 1998, but we believe things are definitely progressing.
"Arithmetically, there will be 24 teams out of 54 members, so there's a better chance on that basis.
"Any team that wants to play in the finals has got to be good enough and we believe we're starting to progress."
The last 18 months have been a turbulent time for Scottish football, with three clubs experiencing insolvency events and a protracted period of restructuring of the game, culminating in the creation of the Scottish Professional Football League in the summer, which has unified all of the country's professional league bodies into one umbrella organisation.
Ogilvie said he was happy that the wrangling over the structure of the Scottish game had finally been settled, which should allow clubs to get back on a more even footing and begin developing more Scottish players for the future of the game.
"I'm delighted where we're now in a situation where we have a new league structure," said Ogilvie.
"Last year, we lost ground on the football issues we should have been debating were taken up purely on the back of the league reconstruction debate.
"There seems to be a buy in to the new structure and any issues that were there last year, people have put behind them.
"It's key that everyone in Scottish football works together to take the league forward.
"We know the SFA and the league have got to work together to ensure a vibrant future.
"In the development side of the game there's a lot of work taking place at club level and SFA level and it's imperative the SFA works close with clubs to get as many players through as possible.
"Everyone benefits from a successful international team - and the only way to take it to the next level is with all the member clubs of the SPFL and the SFA working together."