Tony Pulis offers advice to Craig Bellamy over management plan
Last updated on .From the section Cardiff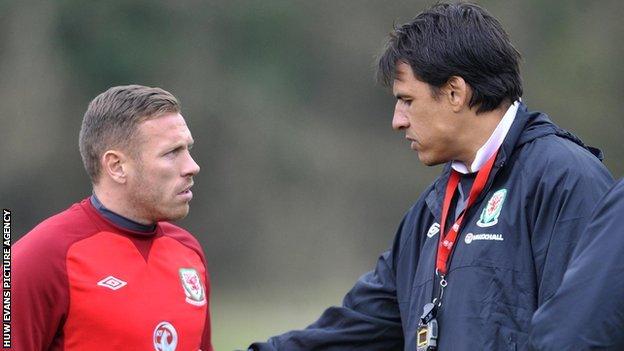 Former Stoke City manager Tony Pulis says Craig Bellamy must "sort his temperament out" to become a manager.
Striker Bellamy, 34, is to having spoken of wanting to
Pulis says Bellamy is a "wonderful" and "smashing lad" who he had hoped to sign, and wished him the best in his ambition to be a manager.
"He'll have to sort his temperament out ... to deal and work with other players and other people," he said.
Pulis steered Stoke to the Premier League in 2008, and kept the club in top flight for five seasons before
He has also managed Bournemouth, Gillingham, Bristol City, Portsmouth and Plymouth Argyle as well as another spell with Stoke from 2002-2005.
Bellamy is pondering his future beyond Cardiff City's debut season in the Premier League, with retirement a possibility.
The player has already has already announced his international retirement will follow Wales' 2014 World Cup qualifiers against Macedonia and Belgium.
Wales face at Cardiff City Stadium on Friday, and travel to Belgium on Tuesday, 15 October.
Speaking to BBC Radio Wales, Pulis said "terrific" Bellamy had been "wonderful for Wales".
Newport-born Pulis added: "From what I can gather he wants to go on the coaching side of it and I wish him all the best in that field if he does do that.
"His human skills will have to improve a little bit when the old mist drops.
"But having said that it's nice to have that character, that determination and that real quality of wanting to win.
"But he'd have to generate that in the right way and like I say, I wish him all the best and fair play, what a great career.
"I actually went down to Cardiff, last year [or] the year before to meet him. I was desperate to try and sign him when he was having problems at Man City.
"And I found him an absolutely wonderful person one on one.
"I'd been told about his temperament in the group and what he can be like at times, the way he loses his temper.
"But [he's a] football nut, an absolute football nut and a smashing lad and I wish him all the best."