Chris Coleman not judged on next two Wales games, says FAW chief
Last updated on .From the section Welsh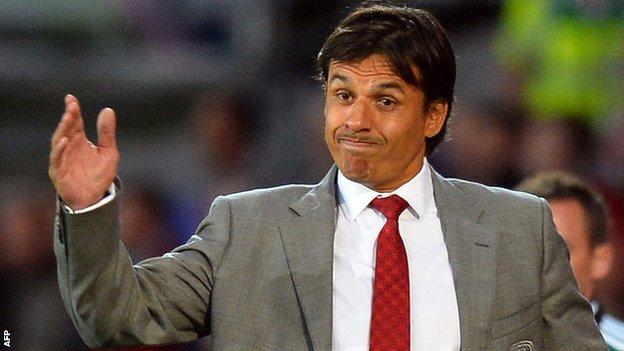 Chris Coleman's new contract as Wales manager will not hinge solely on their final two World Cup qualifiers.
But Ford told BBC Radio Wales on Monday that "we're not going to judge anybody on just two games", although he also stressed that more wins were needed.
Coleman's current contract expires at the end of November 2013.
The 43-year-old, who was appointed in January 2012 on a two-and-a-half-year contract following the death of Gary Speed, has said
But Coleman has said he will lead Wales against Macedonia on Friday night, Belgium on 15 October and in a friendly against Finland at the Cardiff City Stadium on 16 November.
Wales have won just three of their 12 games under Coleman, with their last victory coming against Scotland in March, and they sit bottom of their qualifying group.
"Chris has been there a couple of years of course and, forgive me, there's been some fantastic periods within his reign where we've seen some fantastic football," Ford said.
"Let's not forget the circumstances in which he took over. It took a while, it would take any manager - no matter what their skill level - a while.
"And of course we've seen some fantastic performances: two great performances against Scotland; a fantastic win against Austria; very, very close [to winning] against Croatia and arguably we should have won that."
Ford recognised that Coleman has an uphill task in the games against Macedonia and Belgium, as injuries and suspensions have seen the Wales boss to his squad.
"With the injuries that we have of course it's going to be very, very difficult," Ford said.
"Nobody is going to judge one person on any one match and certainly not in these circumstances... if he was on trial now I think anybody would pack in right now."
But the FAW chief did concede that Wales "need to win considerably more than we lose".
He added: "It's a results-based business... I want to win every single match, I want to be with the fans - every fan in this country wants us to win every single match, that has not changed, it will never change in the future.
"We must win, we must look to win, we must look to qualify, that must be our objective, that has to be our goal.
"We do need to ensure that we have a full evaluation period, look back over the last couple of years with Chris and decide with him what is the best way forward."