Adnan Januzaj: Manchester United player undecided on country
Last updated on .From the section Football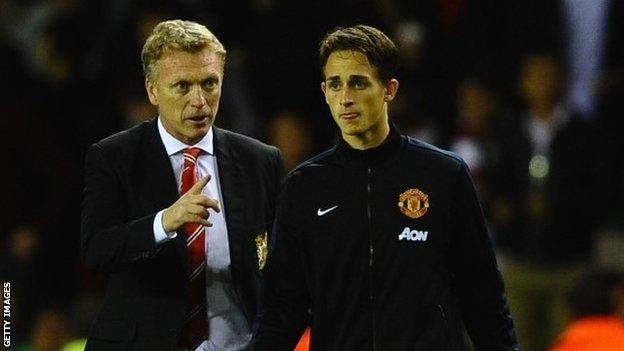 Manchester United teenager Adnan Januzaj is not ready to make a decision on his international future, according to Belgium coach Marc Wilmots.
Uncapped Januzaj is eligible for the country of his birth, Belgium, as well as Albania, Turkey or Serbia.
But Wilmots said: "United told me that Januzaj has not made a decision to play for a national team yet."
Januzaj, who was signed by the Premier League champions in 2011 from Belgian club Anderlecht for a reported fee of nearly £300,000, was born in Brussels.
However, he seems keen on keeping his options open, having not yet played internationally at any level.
Januzaj qualifies for Albania through his Kosovan-Albanian parents, Turkey through his grandparents and Serbia as Kosovo's independence has not been recognised by the United Nations.
Kosovo's national football team are not members of Uefa or Fifa.
"We gave a clear signal that we want him to play for Belgium and now it's up to him. I will respect his choice," added Wilmots.
England manager Roy Hodgson said on Match of the Day on Saturday that he had been keeping an eye on a player whom he described as a "real talent".
The sport's governing body Fifa states a player is eligible if "he has lived continuously for at least five years after reaching the age of 18 on the territory of the relevant Association".
That would mean Januzaj would have to wait until 2018 to represent England, assuming he remains in the country until he turns 23.
But the chances of the forward wearing the Three Lions appear slim with England, Northern Ireland, Scotland and Wales having voluntarily agreed to opt out of the residency rule in 1993.
Instead, they have chosen to allow switches once a player has received five years' education in one of the four countries before the age of 18, which reduces the chances of Januzaj playing for England unless the home nations change their stance.