Gus Poyet: What is Sunderland's new boss really like?
Last updated on .From the section Football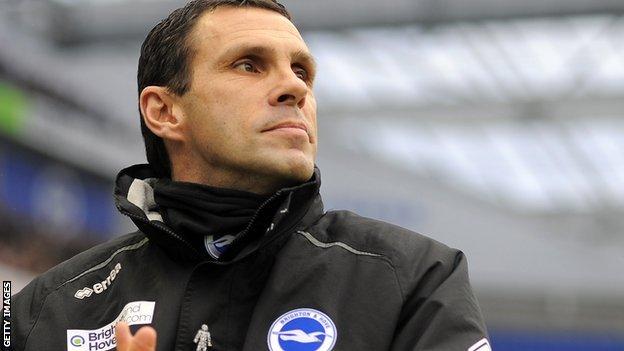 New Sunderland head coach Gus Poyet is a "wonderful human being", says the man who gave the former Uruguay international his first coaching job.
Mark Devlin has good reason to be thankful as he remembers how the former Chelsea and Tottenham midfielder helped after he nearly died in a plane crash.
Devlin was chief executive at Swindon Town in 2006 when the club recruited Dennis Wise as manager, with former Stamford Bridge team-mate Poyet his assistant, following relegation from League One.
But after the first game of the season at Hartlepool, Devlin and his 10-year-old son Stan were travelling in a light aircraft that ran out of fuel and plunged on to Denham golf course in Buckinghamshire.
"Dennis and Gus came to see us in hospital the next day. I had fractured vertebrae in my spine and Stan had broken both his legs," said Devlin, now chief executive at Brentford.
"Gus promised to my nipper that every time Swindon won, he would come in and see Stan.
"You get used to people in football not keeping their word but Swindon won their first six games, and without fail he came and spent time with Stan.
"He would stay for a fairly lengthy period of time, talk to friends and relatives, some of whom would recognise him as Spurs or Chelsea fans, and he had time for them all."
But not everyone has as much time for Poyet, who was dismissed by Brighton for gross misconduct and described as "selfish and egocentric" by former Spain international Vicente.
The midfielder, released by Brighton after 18 starts in two injury-hit seasons, claimed the manager reversed a decision to let him return to Spain the previous summer when his young daughter struggled to settle in England.
"He is the worst person I've come across in football," the 32-year-old told the Argus newspaper in May.
"For example, he deceived me when he said I could go and then he didn't let me. I was four months out injured and he wasn't capable of coming up and asking how I was."
Vicente claimed Poyet, 45, teased players over mistakes in training, and made fun of him when he missed a shot.
That depiction does not tally with Irish midfielder Gary Dicker's recollection of the Uruguayan at Brighton, however.
"I'm sure you will find more players that will say good than bad. He can have a laugh and a joke but he's serious when he needs to be serious," Dicker, now at Rochdale, told BBC Radio 5 live.
"If you're in any job or any walk of life, I don't think everyone is going to get on with the boss."
While views on Poyet's style and personality may differ, there is no doubt he faces a daunting task at Sunderland, bottom of the table after a turbulent period under previous boss Paolo Di Canio.
Like the Italian when he was appointed, Poyet has no Premier League managerial experience, but he has enjoyed a varied coaching career so far.
After less than six months at Swindon, he followed Wise to Leeds under former Chelsea chairman Ken Bates before Spurs hired him to work under Juande Ramos in October 2007.
Although Poyet won the League Cup with Ramos at Tottenham early in 2008, they were fired in October after a poor start to the following season.
He joined Brighton in 2009, led the the south-coast club to the League One title two years later and then last season's Championship play-off semi-final, where they were beaten by eventual winners Crystal Palace.
Succeeding Di Canio, Poyet will attempt to bring stability as the sixth permanent Black Cats manager in five years - although he has attracted controversy before.
"Everybody knew what Di Canio was about and there were a few eyebrows raised when he got the job. I think Gus is a little bit calmer," former Brighton and Sunderland striker Johnny Byrne told BBC Sussex.
"But he wasn't short of controversy when he was at Brighton. When the Luis Suarez affair blew up at Manchester United [Poyet's fellow Uruguayan was banned for racially abusing Patrice Evra] he wasn't slow to put his point of view."
Poyet was under contract with the Seagulls until 2016, but awas suspended in May, along with assistant Mauricio Taricco and first-team coach Charlie Oatway.
"It ended pretty acrimoniously with him being suspended with his backroom staff, and then fired. You could argue Sunderland have taken a slight gamble.," said Byrne.
"He is an interesting character and if he does well they will idolise him."
What Sunderland fans will hope for, and may get, is an immediate boost to morale.
"When he walked in at Brighton the first day, I think everyone got a lift straight away. When I was there, he was top drawer," said Dicker.
"He likes to play attractive football but both his assistants thrive on clean sheets so they won't be leaking many goals."
Devlin said the appointment of Wise and Poyet also brought immediate improvement at Swindon.
"They transformed the players. The fitness levels and passion they created made Swindon a really good side," he said.
"It was impressive that some of the players who looked so down after relegation were so different in pre-season.
"Dennis was a quite fearsome character but very passionate about football and Gus was a little bit more laid back, but between them they got the best out of the players."
After the plane crash, the Swindon players, under Wise and Poyet's leadership, organised some gifts - including a Game Boy - for Devlin's son in hospital.
Eight years on, Stan is studying for his A-levels and wants to be a paramedic.
"My son is 18 now and he's a QPR supporter but he won't have a word said against Gus Poyet. We'll always be grateful to him," said Devlin.