Ghana ask for World Cup qualifier to be moved from Egypt
Last updated on .From the section Football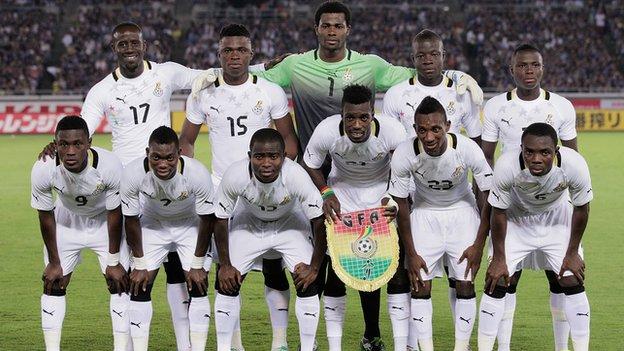 The Ghana Football Association has asked Fifa to move the return leg of their 2014 World Cup play-off tie against Egypt to a neutral venue.
With dozens of people killed over the weekend in the latest clashes in Cairo the GFA is concerned about security.
The match is due to be played on Tuesday 19 November in Cairo.
"Our request is premised on the alarming and fast deteriorating security situation in Egypt," the GFA says in a letter in its website.
"The violence has shown no sign of abating.
"We are seriously concerned about the security and safety of our delegation and spectators if the match would be played in Egypt as events in the country pointedly indicate that our delegation could be exposed to danger as the violence and insecurity in the country continues relentlessly.
Football's world governing body says it has received the request but added: " We can't give you an exact time-scale for the decision since we are currently monitoring the situation."
The GFA is also worried that the match is due to be played in front of fans.
It would be Egypt's first home match in the 2014 qualifying campaign to be have supporters watching.
"The GFA is gravely concerned that for the past two years Egyptian authorities have only allowed football matches to be played without spectators yet Ghana has reportedly been asked to play Egypt in Cairo before fans," the letter continued.
"It is noteworthy that Egypt played all their home qualifying matches for the 2014 World Cup with Mozambique, Zimbabwe and Guinea in Egypt without spectators.
"Local clubs Al Ahly and Zamalek played their recent Caf Champions League matches behind closed doors as the security authorities refused the supporters access to the games because of the current turmoil in Egypt.
The GFA highlights past internationals that have been moved to neutral venues because of worries over the safety of players and officials.
"Due to the civil and political problems, Libya played their football games in Tunisia between 1st June 2012 and 10th September, 2013," the letter says.
"The 2014 Fifa World Cup qualifying matches involving the Central African Republic were moved to neutral venues due to political instability in that country.
"Much as we sympathize with our brothers at the Egyptian Football Association, we are highly concerned about the security and safety of our players, officials and supporters.
"We would like Fifa to take the necessary steps to protect lives and from both Ghana and Egypt during the second-leg game.
"The GFA is asking Fifa to re-evaluate the decision to host the World Cup playoff in Egypt in November as the safety of our delegation would be as risk if the match is played in Cairo."
The first leg of the tie is due to be played in Kumasi on 15 October.