Cambridge United: Richard Money 'was a grumpy old fool'
Last updated on .From the section Cambridge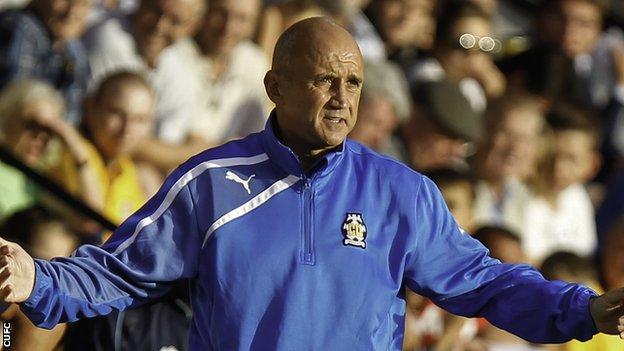 Cambridge United boss Richard Money says his criticism of fans at the weekend was "ridiculous" and unhelpful.
After Saturday's 1-0 win over Hereford,
"I hope that people will just take it as a ridiculous, over-exaggerated rant from a grumpy old fool," he told BBC Radio Cambridgeshire.
"In the end that's the way it's come out. But I should know better."
The U's went seven points clear at the top of the Conference Premier by beating the Bulls in front of a crowd of 3,381 and extended their unbeaten start to the season to a club-record 13 games.
But in comments after the game Money said he felt that fans in the Abbey Stadium were too quiet in the first half and that sections of the support became too apprehensive when their side were defending their lead late on.
The Cambridge boss has admitted he should have rethought his approach.
"It was another great attendance - 3,300 - and we want to keep them coming," he said. "If I'm honest, are those comments going to help that? No, they're not.
"It was only in that last 10 minutes, when Hereford gambled, that we had to defend deep and with numbers and everybody got anxious.
"Thankfully the players kept their heads when everyone around them was losing theirs, including me. I just hope we can draw a line under it."
Meanwhile, the U's will hope to extend the loan spell of striker Kwesi Appiah from Crystal Palace this week.
The 23-year-old, who has scored in each of his last three games, is set to return to Selhurst Park after Saturday's game at Chester.
"Hopefully we can get things moving in a more formal manner at some stage this week," said Money.