Steve Davis: Crewe manager grateful for boardroom backing
Last updated on .From the section Football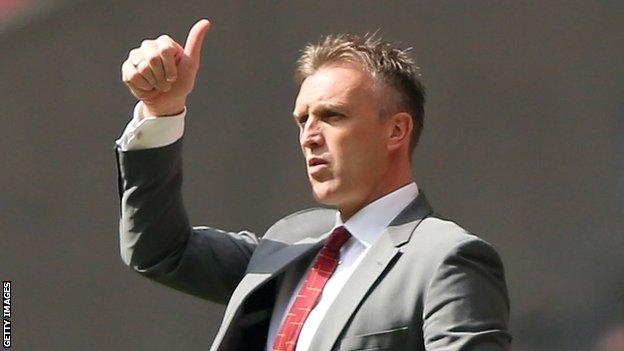 Crewe boss Steve Davis acknowledges the debt he owes for having the backing of the board of directors at Gresty Road.
But with six managers already sacked since the start of campaign, Davis is comforted that the Crewe board look only at the bigger picture.
"The board have been very supportive, even though we've had a difficult start," Davis told BBC Radio Stoke.
"With the success we've had over the last two years, my chairman John Bowler and I are still planning for this season, next season and beyond. It gives you that bit of security."
The end for Davis's League One rival Martin Allen (the third and latest manager to go at Crewe's level since August) came just two weeks after the Gillingham side he led to promotion in May had won 3-0 at Gresty Road.
And, despite the Alex ending their own poor run by winning at Preston, their first victory in eight league matches, they remain a place behind the Gills in the table in 18th.
"Six managers have been sacked and we're only 11 or 12 games in. That's how it is," added Davis. "It doesn't surprise anybody.
"I was listening to the England manager yesterday saying that there's nobody in football who doesn't worry. I'm normal like everyone else.
"It's frustrating when you're playing well and you're not getting results.
"When you're down there, you don't get much luck. We were getting punished for every single mistake, but you just have to keep going and working through it and hoping the luck turns around."
Davis points to Premier League champions Manchester United as a classic illustration of the importance of giving a manager time to succeed.
Sir Alex Ferguson retired in the summer after bringing in his 13th Premier League title - yet it took even a manager of his magnitude six and a half years to claim his first, the sort of timeframe now almost unimaginable in the game of football in the 21st century.
"Statistics have proved over the years that the right thing to do is stick by people," added Davis.
"Manchester United have always stuck by their men. They will do the same with David Moyes now. He'll be there a long time.
"But it depends on each particular club.
"Chairmen and chief executives want results.
"That's the nature of the business you're in. Sometimes you're not allowed that time.
"When you get investors investing millions of pounds, they want results.
"If they don't get an immediate return, it's the manager who pays with his job."