Premier League's £12m fund for away fans welcomed by group
By Saj Chowdhury
BBC Sport
Last updated on .From the section Football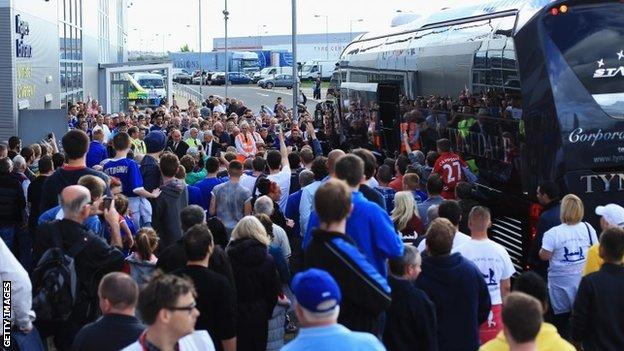 The Premier League's efforts to reduce costs for away supporters have been welcomed by a fans' group.
The 20 top-flight clubs have been given £200,000 each to subsidise travelling fans, with some offering ticket deals and others providing free coach travel.
The Football Supporters' Federation says ticket prices are the priority.
"The League's response has been very positive," said the group's chief executive Kevin Miles. "But ticket costs are the main issue."
In August, Premier League chief executive Richard Scudamore announced a total of £12m would be given to clubs over the next three seasons, in response to a 10% decline in away attendances over the past five seasons.
With this season's instalments of £200,000, Arsenal, Liverpool, Manchester United, Swansea, Fulham, Crystal Palace and Sunderland have all offered either discounts or deals on tickets.
Meanwhile, free transport has been made available by clubs including Hull, Aston Villa and Stoke, with the latter offering complimentary coach travel for all of their away matches this season. As a result, the Potters took a club record number of fans to Liverpool on the opening weekend.
Four clubs are yet to say what they plan to do with the money.
Miles stressed ticket prices remained the "central issue" that determined attendances.
"We [the FSF] launched a campaign last season, 'Twenty's Plenty'. We believe £20 is a reasonable price to pay as an away fan. Once you add in travel costs, away fans shouldn't be expected to pay £50 and more to go to watch their team," he said.
Last season, Manchester City fans complained when Arsenal charged them £62 for a ticket for January's fixture at Emirates Stadium. The match was deemed to be a Category A game, fixtures that command the highest ticket prices.
"We are also pressing for abolition of price categorisation for away fans," added Miles. "A lot of clubs categorise their matches according to how tickets are going to sell.
"If that applies to away fans who follow a successful club, then they will pay top prices. We think that's unfair."
A 2013 BBC survey of the costs of football found the average prices of the most expensive season ticket and highest and lowest match-day prices in the Premier League had fallen by up to 5.3%.
How Premier League clubs are spending the £200,000:
Arsenal: Away fans will receive a £2.50 discount on every remaining away Premier League match ticket. The club will also provide away supporters with a £10 refreshments voucher at an away fixture this Christmas and invest in the away end at Emirates Stadium.
Aston Villa: The club are offering away supporters free coach travel for 10 games this season, starting with the match against Hull City on 5 October.
Cardiff: The Bluebirds will subsidise 30 coaches for Norwich City (26 October), so fans only have to pay £5. They are also looking into other deals.
Chelsea: The Blues are offering subsidised travel for at least 10 away games this season, including the trips to Everton, Manchester United, Newcastle United and Sunderland.
Crystal Palace: The Eagles are offering a deal that lets supporters buy an adult ticket at half price with every full-price junior ticket purchased.
Everton: Matter under discussion.
Fulham: The Cottagers are offering free tickets for juniors and free travel to all away games. They have also made improvements to the Putney End (away stand) facilities at their own ground.
Hull: Offering free travel to away games, and now have nearly 30 coaches going to Everton (19 October). The club are also offering free travel to Spurs (League and League Cup), Southampton, Arsenal and Swansea, all before the Christmas period. Hull are also considering subsidising match-ticket prices for one of the games.
Liverpool: A reduction in away ticket prices of between £2 and £4, depending on the opposition. The decision was taken after consultation with the club's Supporters' Committee.
Man City: In addition to the £200,000 fund, the City players have also contributed to the club's offer of half-price tickets to seasoncard holders at selected away games throughout the season. Work is also underway to enhance the away areas at the Etihad Stadium for travelling fans.
Man Utd: The club will be applying a £4 discount on all away tickets - coming into effect from the Fulham game on 2 November. Any unused money will be added to next season's £200,000.
Newcastle: The Magpies will fund travel to away games for Disabled Supporters' Association members.
Norwich: Matter under discussion.
Southampton: Matter under discussion.
Stoke: The Potters are offering free coach travel to away fans for all Premier League fixtures.
Sunderland: The Black Cats are subsidising away tickets at certain fixtures by £10 and improving the concourse, signage and bar areas for travelling fans at the Stadium of Light. They have also produced 40,000 guidebooks for visiting fans with things to see and do in the area.
Swansea: The Swans are offering a deal that lets supporters buy an adult ticket at half price with every full-price junior ticket purchased. They also provided free hot meals for every travelling fan at Southampton on 6 October.
Tottenham: Spurs are subsidising coach travel for 14-19 away games this season.
West Brom: For the 12th time in 11 seasons, the club will be providing free coach travel for around 2,000 Albion fans to a yet-to-be-confirmed away fixture. Discounted ticket offers for selected fixtures will also be made available to away fans visiting The Hawthorns. Away fans will also benefit from the reduced food and drink prices in the Hawthorns concourses.
West Ham: Matter under discussion