Northern Ireland players in Premier League fall
Last updated on .From the section Football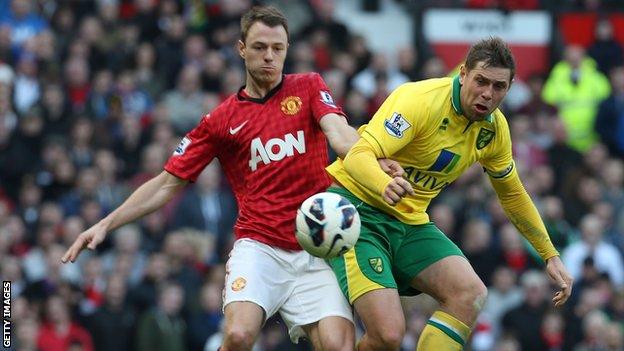 Northern Ireland representation in the Premier League and Championship is falling, BBC Sport's State of Football study has found.
Football statisticians Opta compared statistics from the entire 2007-08 season to the opening two months of the current season.
In the overall percentage of minutes played, Northern Ireland's Premier League figure in 2007-08 was 2.336%.
However, that has dropped to 0.945 of one per cent so far this season.
Former Northern Ireland World Cup hero Billy Hamilton said the figures "paint a bleak picture for this country".
"Unless the Premier League or indeed Championship put some kind of cap on the amount of foreign players then the statistics are only going to get worse for Northern Ireland," said Hamilton.
"It's such a change from when I was playing. When I was playing for Oxford United in the old First Division, we didn't have any foreign players in the team.
"We made up entirely of British and Irish players with the likes of Ray Houghton and John Aldridge from the Republic of Ireland and Bobby McDonald from Scotland all there.
"Nowadays the Premier League clubs are even filling their academies with players from all over Europe and beyond so it's very hard for players from this part of the world to break through."
All figures are based on percentage of minutes played, per nation, and the difference between the Northern Ireland Premier League statistics from 2007-08 and the opening weeks of this season equates to a 60% fall in representation.
Maik Taylor, David Healy and Chris Baird were among Northern Ireland's Premier League players in 2007-08 while the Championship contingent still included Keith Gillespie at that stage.
Not surprisingly, the Northern Ireland trend for the Championship is not quite as dramatic but it still represents a fall of just under 40%.
In 2007-08, Northern Ireland players's percentage of minutes in the Championship was 3.01 but that had reduced to 1.82 over the opening two months of this season.
The reduction of Premier League and Championship representation has led something of a Northern Ireland exodus to the Scottish top flight.
There has been a 275% increase in Northern Ireland representation in the Scottish top division when comparing 2007-08 to the opening months of the current campaign with the likes of Niall McGinn, Ryan McGivern and Billy McKay among those plying their trade in Scotland.
The Northern Ireland Scottish top-flight figure six years ago was 1.31% but that has increased to 3.61% this season.
The continuing influx of foreign players into the Premier League means that the percentage of English players has dropped from 35.43% in 2007-08 to 32.26% so far this season.
But Northern Ireland's Premier League representation has dropped significantly more than Scotland and Wales over the past six years.
Wales' Premier League figure in 2007-08 of 2.52% was close to Northern Ireland's (2.336%) at that stage but had increased to 3.12% over the first two months of this season, well ahead of Northern Ireland's current percentage of .945%.
Scotland had also produced a small increase from 3% in 2007-08 to 3.26% so far this season.
Overall, the percentage of UK players in the Premier League is down by almost 5% with the number in the Championship increasing by 7%.
The Republic of Ireland's Premier League and Championship percentages have also dropped from 6.034% and 11.73% in 2007-08 to 4.767% and 8.34% this season.
Given Northern Ireland's lack of representation in the Premier League and Championship, Hamilton believes that the international team's chances of qualifying for a major tournament and going to be slim for the foreseeable future.
"After every World Cup or European Championship, we hear all the talk about when England are going to ever win a major tournament again.
"Well, if the Premier League don't introduce a cap on foreign players to four or five in a team, I can tell you that England will never win another tournament.
"And similarly, if the status quo remains, which looks likely to be the case given the attitude of the Premier League and its clubs and also employment laws, then Northern Ireland can forget about qualifying for a major championship as well."