Greg Dyke: Premier League turns down FA commission role
Last updated on .From the section Football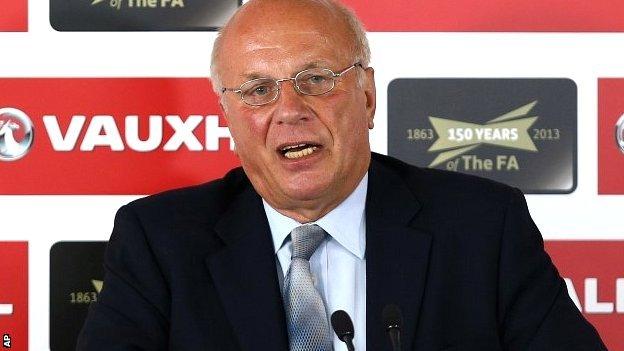 The Premier League has turned down a role on the commission to improve the England team, says Football Association chairman Greg Dyke.
The Premier League feels it needs more than one voice on the panel to reflect its members' views and will offer help without being fully involved.
Former England manager Glenn Hoddle will be on the commission with other members announced later on Wednesday.
"I disagree, but can understand," Dyke said of the Premier League's stance.
The commission - which will consider how to increase the number of England-qualified players appearing for the country's top clubs - is expected to include former players, FA board members, representatives from the Professional Footballers' Association (PFA) and the League Managers Association (LMA).
It is understood Premier League chairman Anthony Fry was invited to take up a role but tuned down the offer because of concerns over the make-up of the rest of the panel.
David Bernstein - Dyke's predecessor as FA chairman - gave his backing to Hoddle's inclusion but said it would be "incredible to have a meaningful commission" without representatives from England's top flight.
He told BBC Radio 5 live: "I don't know Glenn Hoddle personally but clearly he's a real man of football and he's got great football knowledge and I'm sure he'll be helpful."
He added: "I do think it's very important the Premier League are involved in this. Any football body or committee trying to make progress in this country without the Premier League has got a bit of a problem.
"The Premier League clearly has quite a few of the answers and a great deal of power. I hope the Premier League see fit to send somebody onto this commission.
"If we're looking at a commission for the greater, wider good of English football then all parties need to be involved."
Speaking at the Leaders in Football conference at Stamford Bridge, Dyke said: "The Premier League were very helpful and will help all they can but didn't want to be on commission itself."
Dyke, who took up the FA post in July, used his first major speech in July to set the national team targets of reaching the semi-finals of Euro 2020 and winning the World Cup in 2022.
In June, Premier League chief executive Richard Scudamore accused the FA of trying to deflect blame for England's poor performances in major championships.
"We have not won the World Cup since 1966," said Scudamore. "The Premier League didn't start until 1992. What happened between 1966 and 1992? Whose fault was that?
"It cannot be our fault on any level."
Dyke also said he wants it to be easier to take retrospective action for on-pitch incidents, such as Chelsea striker Fernando Torres's scratch on Tottenham defender Jan Vertonghen during September's league match between the two sides.
The FA has increased its power to punish incidents that escape the officials's notice at the time, but Dyke admits being confused by Torres escaping further sanction - with the governing body stating it had been seen by an official "albeit not in its entirety".
"It is understandably baffling to everyone and must be addressed," said Dyke. "As FA chairman I don't like being in a position where I can't explain why we can't take action."