Scotland Under-21: Billy Stark backs players to bounce back
Last updated on .From the section Football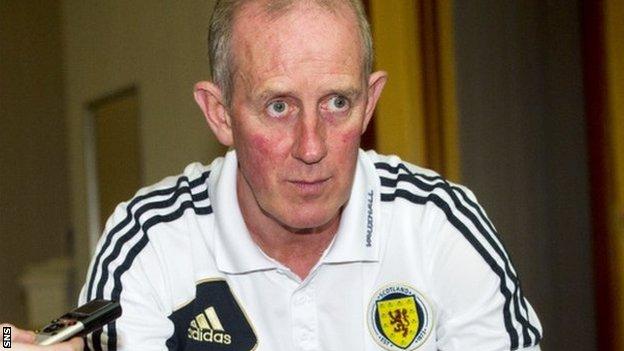 Billy Stark believes his Scotland Under-21 side can recover from shipping 10 goals in two games to challenge for European Championship qualification.
The young Scots followed up a in a friendly by
"We are probably where we would have budgeted to be at the outset of the tournament," stressed manager Stark ahead of
"We and lost the most difficult game in Holland."
Stark believes his side put up an improved performance against the Dutch, who are Group 3 favourites.
"The two defeats happened under different circumstances," he said. "For the England game, they had 11 better players who were extremely motivated because they had the England manager in charge that night. They were trying like a beast.
"This sounds like excuses, but I've been asked the question, so I'm trying to put it in perspective.
"It was a one-off game, a friendly against England, and we didn't perform.
"But we said to the players that they have to be big enough to come back from that - and they did.
"In Holland, we should have been a couple of goals up by half-time in their back yard. We suffered in the second half, but that's the way it happens in international football if you don't take your chances.
"I don't mind people calling me daft for saying this, but on another night we could have come away with a victory. That tells me we can handle it."
Slovakia won in Luxembourg and defeated Georgia at home and Stark believes the group will take shape after the next series of double headers.
After Thursday's game at St Mirren Park, Scotland also take on Georgia, who have beaten Luxembourg in their other game, with the Dutch facing Slovakia and Georgia.
However, Stark stressed that the under-21s were as much about preparing players for full international football as winning games, especially when there were so few qualifying places.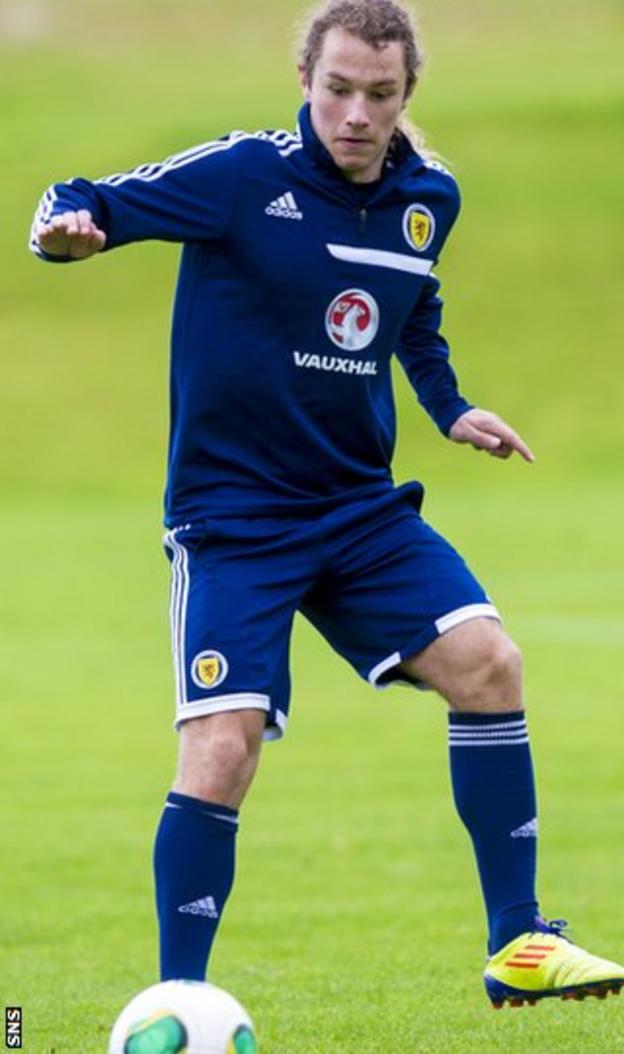 "Qualification is what we absolutely strive for in every squad we get," he said.
"The last three squads before this one have taken it to the last minute of the qualifying group and we have won the group and still not qualified.
"You are qualifying for the last eight in Europe and, if people are thinking that we should be qualifying regularly for the last eight in Europe, they are needing a reality check.
"As a coach, I'm feeling in a good position because they have something to prove.
"If you've got players with ability with something to prove then that's a pretty good mix."
In-form St Johnstone striker Stevie May looks to have
"Stevie's been with us the last couple of squads and came on and he's continued his scoring form," added Stark. "Stevie's earned his chance."
And May hopes he can graduate to the senior squad for the Euro 2016 qualification campaign.
"That's got to be your long-term goal," said the 20-year-old.
"I think if I can just keep doing what I'm doing and concentrate on my football then I don't see why it's not a possibility.
"If you're playing every week and doing well you'll get rewarded. I'm just going to get my head down and play as many games as I can for St Johnstone and hopefully at Scotland Under-21 level as well and see where that takes me."
Meanwhile Stark has called up Motherwell defender Fraser Kerr to his squad after Bournemouth's Ryan Fraser and Fulham defender Jack Grimmer dropped out due to injury.