Truro City owner Peter Masters vows to stand by Steve Massey
Last updated on .From the section Football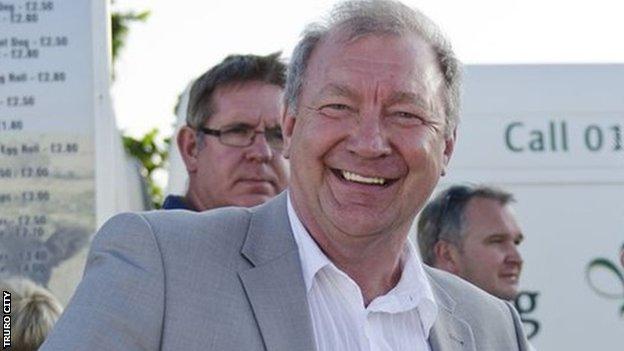 Truro City chairman and co-owner Peter Masters says he retains confidence in manager Steve Massey, despite the team's current struggles.
The White Tigers are still without a home win this season after Tuesday's 2-0 defeat by Poole Town.
"There's no reason to start making changes for change's sake," Masters told BBC Radio Cornwall.
"Steve loves the club and we've had long discussions - he's sticking with it, and knows what they've got to do."
Truro signed two players in the shape of Ben Watson and Aaron Pugh last week and Masters said more new signings could be imminent with defensive reinforcements a priority after the team conceded nine goals in two games.
"I think we need to strengthen that defence up and that is on the cards," he said.
"We've been looking at players this week and we may make a signing on Thursday or Friday."
Following last season's financial meltdown at the club, Masters had pursued a recruitment policy of bringing in younger local talent but the businessman admitted that there could be a need for a rethink.
"I've got to take some criticism because I've been pushing for the Cornish players and they're young and inexperienced but they're coming through," he said.
"We do acknowledge that we've got to put some more experienced players in the squad to get things going.
"It's early days and we're not going into panic mode."
But Masters said there would probably have to be some trimming of the squad as he was determined not to end up spending beyond the budget he put in place at the start of the season.
"Steve is still within budget which is the important thing," he said.
"We will keep within that budget so he may have to make a few changes. I think we've got 24 or 25 players which is quite a lot to choose from.
"It's going to be a hard slog but we have to dig deep - yes, we're concerned but we're not panicking."