Harry Redknapp denies 'disrespecting' Roy Hodgson
By David Ornstein
BBC Sport
Last updated on .From the section Football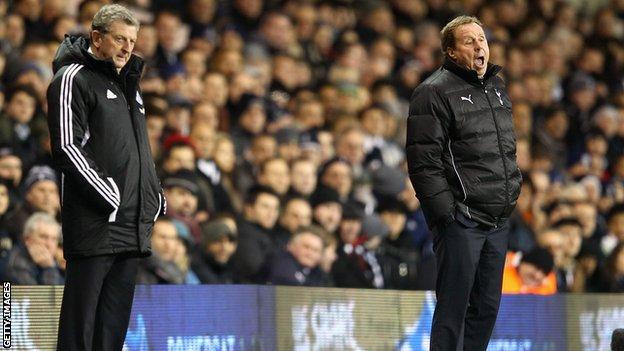 Harry Redknapp has denied he has been disrespectful to England boss Roy Hodgson by criticising the Football Association's recruitment process in the week of a World Cup qualifier.
Ex-FA chairman David Bernstein said Redknapp's words were "disrespectful".
"No-one was disrespectful to Roy or anybody else," QPR boss Redknapp said.
"What effect will that have on the England team? Not the slightest. I'm the biggest England fan of all and I think they will win the games this week, and Roy has done a excellent job. I have absolutely no problems with Roy Hodgson at all."
England, who top Group H, face Montenegro at Wembley on Friday and Poland at home again on Tuesday and will secure a place at next year's World Cup in Brazil with two victories.
Bernstein also defended the consultation process, saying the FA had spoken to 20 people before he and three other FA colleagues made a final decision on Hodgson's appointment.
But Redknapp added: "[Bernstein] can call himself a football man but in all honesty he may think he's a football man, but what he probably knows about football is not an awful lot."
Bernstein, who stepped down from his FA role earlier this year, said of Redknapp's autobiography which was serialised in a newspaper this week: "To come out and effectively criticise a process and another manager - because that is what he did - at this particular time where we had two crucial international matches coming up was something that I thought someone like Harry would think better of."
Redknapp responded by saying: "I don't decide when the book is going to be released. That is nothing to do with me - that's down to the publishers."
The 66-year-old wrote in his book: "Everyone said I was the people's choice, the only choice. All the senior players seemed to be up for me to get the job.
"But the FA went for Roy Hodgson to be the England manager - a man who is more their cup of tea."
However, Bernstein insisted the FA had done "a very thorough job" when choosing Capello's successor in May last year and defended the four-man selection panel.
That panel, chaired by Bernstein, also included Sir Trevor Brooking, FA general secretary Alex Horne and Adrian Bevington, managing director of Club England.
"First of all, it's quite simply inaccurate," said Bernstein, addressing Redknapp's claims that the FA was "clueless".
He added: "There were four people who made this decision. One of them was myself - and I've been involved with running Manchester City for 10 years and chairman of that club for five years.
"[There was also] Sir Trevor Brooking, who has a lifetime in football; Adrian Bevington, who has huge football knowledge, amazing football knowledge; and Alex Horne, the general secretary.
"We spoke to up to 20 people within the game: other managers, players, all sorts of people with great, great knowledge."
When asked whether Redknapp had been a contender for the job, Bernstein, speaking at the launch of the Four Four Jew exhibition at the Jewish Museum in London, said: "I won't answer that question."