Forest Green Rovers: Dave Hockaday wants fans to back team
Last updated on .From the section Football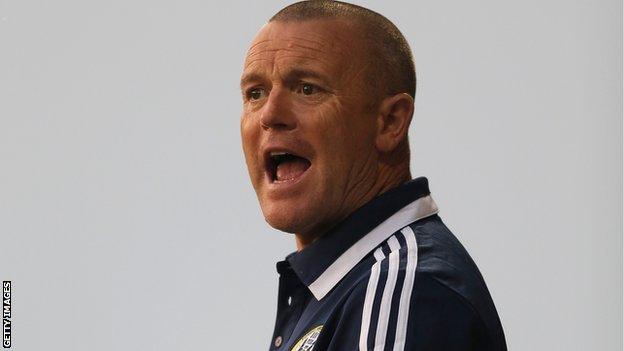 Forest Green Rovers boss Dave Hockaday has urged fans to show faith in the players despite a run of five defeats in six Conference Premier games.
Although among the promotion favourites at the start of the season, the club are currently 14th in the table.
Their 4-1 defeat at Kidderminster on Tuesday was watched by 129 Rovers fans, who made their discontent clear.
"Of course, I understand their frustrations," Hockaday told BBC Gloucestershire after the game.
"If they want to take it out on me then take it out on me, but you've got to support the players.
"People out there can say what they like, I can't control that. At the end of the day, I work hard and put in an honest shift. I believe in my players and people need to get behind them."
As well as being the longest-serving members of the Conference Premier, Forest Green are also among the biggest spenders, thanks to the financial backing of chairman Dale Vince.
The green energy tycoon has invested heavily in the club, but they have yet to achieve their goal of reaching the Football League.
Rovers finished 10th last year and despite going unbeaten for their first four games of this season, their form has diminished in recent weeks.
However, former Watford academy boss Hockaday is confident his side will return to winning ways, saying: "I don't like to moan about things like that but everything that can go wrong is going wrong at the moment.
"But we'll look after ourselves and come back punching on Saturday. That's all we can do. They are determined to put it right and I know they will."
He added: "We're going to shut up a lot of people because we're going to shoot up the league. It's not going to be easy, but I know we'll work hard and that's all we can do."