Albert Adomah's route from park football to the World Cup
By John Bennett
BBC World Service Sport
Last updated on .From the section Football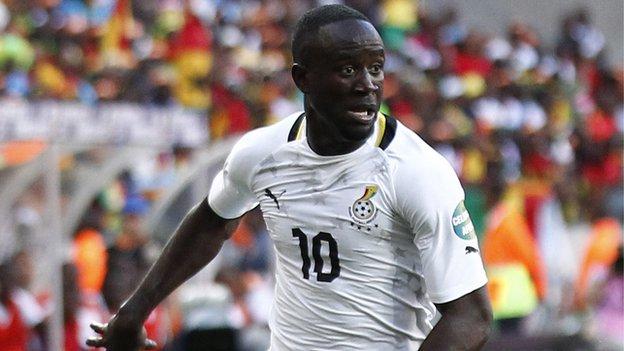 Albert Adomah is aiming to go from Barnet to Brazil.
In 2010 he was watching the World Cup on television, just weeks after helping the Bees finish 21st in League Two.
But next year the Middlesbrough winger could be competing at the tournament in Brazil - playing for Ghana.
"Around the time of the last World Cup I was just about to sign for Bristol City and in the summer I was playing both park and 5-a-side football," Adomah told BBC Sport.
"So hopefully I can go from park football in 2010 to World Cup in 2014. That would be unbelievable."
The 25-year-old has been a regular in the Ghana squad since making his debut against Brazil in a friendly in September 2012.
At this year's Africa Cup of Nations, he wore the iconic number 10 shirt as the Black Stars reached the semi-finals in South Africa.
"I was born in Lambeth in London but both of my parents are from Ghana so it's amazing for me to represent my motherland," he added.
"It's great for my parents. When I play for Ghana I put a smile on their faces, so for me it's very special.
"Plus wearing the number 10 shirt was a big honour for me because players like Abedi Pele, one of Africa's greatest, used to wear it."
Recently Adomah's chances of making Ghana's first eleven have been made harder by the return of a number of high-profile players from international exile.
Chelsea's Michael Essien and Schalke's Kevin-Prince Boateng are back in the Ghana squad. And they've been joined by Andre and Jordan Ayew from Marseille, who have also come out of temporary international retirement.
But Adomah is happy to see them all playing for Ghana again.
"That's football, players come and go, players can keep their place, other players just have to rotate because there's so many players in different positions - in my position there's at least eight players and there's still more on standby," Adomah said.
"Boateng, Essien, Sulley Muntari of AC Milan and the Ayews are all playing for big clubs, so for a player like me it's harder because I'm playing at Championship level.
"But at the same time I just have to be consistent and play regular football like I am now. Hopefully the Ghana manager [Kwesi Appiah] will notice that.
"It'll be hard but I guess that's life when there's a population of 24m in Ghana. Just getting a call-up is a big achievement."
So have the returning players been welcomed back with open arms by the head coach and the whole squad?
"The spirit is always the same, we're all like brothers - no one is higher than anyone else. Even though some players play at a higher level we're all equal when we're at the camp," said Adomah.
"No-one treats anyone else like they're small or big, everyone's equal which is really good.
"I've only played 12 games for Ghana and now I feel like I'm part of the national team, which is great.
"The team bus is always full of joy. On the way to games and even before and after training sessions, we're all singing and dancing.
"It's completely different to England where people are on their phones texting or wearing headphones.
"When I first got a call-up I was a bit shy so I was just clapping my hands to the music but I speak the main language so I can sing along and I don't feel left out.
"And obviously when we score goals we celebrate with a dance which is great, it really gets the supporters going."
Adomah is particularly pleased Essien is back in the Ghana squad. The 30-year-old Chelsea midfielder has more than 50 caps for Ghana and is one of Adomah's heroes.
"When I first got the call-up Michael was at the game and I was thinking 'wow a Premier League player' - hopefully I can get the chance to play with him in the Ghana team," said Adomah.
"Training with him has been really good, it's not often that you get to play with Premier League players, La Liga players or Serie A players so it's a great mix. You're with players of the highest calibre."
Ghana have qualified for the last two World Cups but to be there in 2014 they have to beat Egypt over two-legs in a play-off.
The North Africans haven't made it to the tournament since 1990, but they have a strong team and are led by the former USA coach Bob Bradley.
"Egypt will be tough, but at the same time we believe we can win our game at home and then hopefully when we play Egypt away we can either win or draw," said Adomah.
"We're playing the first leg in the city of Kumasi and I can't remember the last time we lost there.
"The atmosphere in Kumasi is crazy, even for training sessions the stadium is packed. That shows you the characteristics of the supporters.
"They're dancing in the stadium and entertaining themselves even when there's nothing really going on. They're just happy to see the players.
"To make it to the World Cup three times in a row would be amazing for the country and our fans."