Ross Barkley: Why the Everton star is more than the new Gazza
Last updated on .From the section Football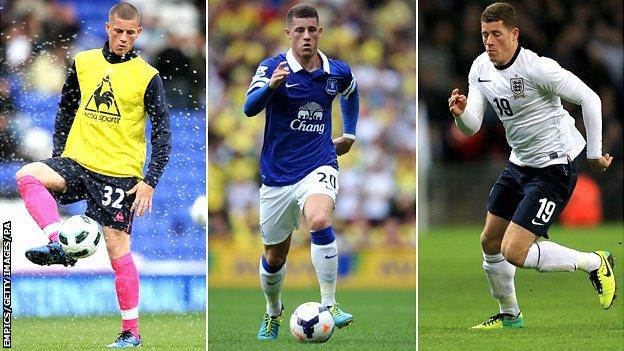 Ray Hall, former Everton academy coach and the man credited with discovering Wayne Rooney, can pinpoint the exact moment he knew he had a star in midfielder Ross Barkley.
"Someone once told me that you could tell which foot a player favoured by getting them to take a penalty - the one they used would tell you if a player was right footed or left footed," says Hall.
"The first time I asked Ross to take penalties he took four - two with each foot - and he scored them all."
That moment came nine years ago. Since then, Liverpool-born Barkley, 20, has risen through the Everton ranks to become not only a key player for the Toffees as they secured a fifth-place finish in the Premier League this season, but also a beacon of hope for the future of English football, which has culminated in his inclusion in Roy Hodgson's England squad for this summer's World Cup finals in Brazil.
From his man-of-the-match performance on the opening day of the season against Norwich, to his first England appearance against Moldova last September, Barkley has impressed with his physicality, driving runs and attacking threat.
Everton boss Roberto Martinez has described Barkley as a mixture of Michael Ballack and Paul Gascoigne. Match of the Day presenter Gary Lineker, a former England team-mate of Gascoigne's, has said of Barkley: "He has a bit of Gazza about him. Similar stature, technique, confidence, ability to glide past opponents and a certain naivety."
But for Hall, who left his role as Everton's academy manager in 2011 after two decades in the role, Barkley is much more than just "the new Gazza".
"Normally you look at players and you think they are like somebody but I don't think Ross is. He is probably quicker than Paul Gascoigne was," he explains.
"I think he is a new generation of athletic, intelligent young footballers that we are bringing through."
From playing for his school team to the World Cup with England in the space of five years, the speed of Barkley's emergence is impressive. Even more so, when you consider he went unnoticed until he was 11.
After spending his childhood kicking a ball about on the streets of Wavertree in Liverpool, Barkley was spotted by Everton while playing for a local junior team.
"Ross actually came to us quite late," says Hall, who oversaw Barkley's development up until he was 16.
"He came to us in his final year of primary school, which may sound early but many come much earlier than that - when they are about six.
"We had kept an eye on him, our local scouting network had kept us informed on what this young boy was like and when the time was right we signed him."
Initially, Barkley proved a conundrum. Not because he lacked ability, but because he played well in every position.
"We get one or two a year who stand out but Ross was different," explains Andy Cawley, Barkley's PE teacher at his former school Broadgreen International.
"It is normal for us to rotate positions but Ross could do it all - tackle, pass, dribble and score - it was all quite natural for him."
Everton were similarly unsure of what his best position was.
"When he came to us, we played him as a centre-back because of his physique. He was very strong for his age group," says Hall.
"He could also score goals too and we felt he needed to be involved more, so we played him up front, before we settled on playing him in midfield at about 13."
From then on, Barkley developed at a remarkable rate. He outgrew his peers so quickly that he was soon playing in age groups where team-mates and opposition players were two or three years older than him.
"When Ross was 13 he was playing at under-15 level and when he was 14 he was in the under-16s team. He played in our under 18 group when he was 15, so he was playing against and alongside boys who were up to three years older than him," adds Hall.
"Physically he could handle that no problem, but it was technically where he excelled - his feet were so quick that you could tell he had the ingredients to become a top player."
Barkley's reputation was growing. In 2008, when he was just 14, he was called up to the England Under-16 squad. He also produced one of his most impressive performances at youth level that year, scoring twice as Broadgreen International beat All Saints Catholic High School in the Liverpool Echo Cup final.
Watching that day, and presenting the trophy, was Rafael Benitez, manager of Liverpool at the time.
At that stage, scouts from other Premier League clubs had noted Barkley's potential but even if they, or Benitez, had been impressed enough to want to sign him, there was nothing they could do.
"He was never distracted by any of the potential interest from anywhere," says Cawley. "He was hugely loyal to Everton and I think that came across when he met Rafael Benitez. He was not arrogant or rude, but it was very much just a case of him saying 'thanks very much' when receiving the trophy and that was that."
Also impressed by his performances was then-Everton manager David Moyes, who felt confident enough in a 16-year-old Barkley's ability to name him on the bench for a Premier League game against Newcastle in September, 2010.
Barkley did not come on in that game, but it seemed his first-team debut was imminent until what every budding footballer fears happened. During an England Under-19 match, he collided with Liverpool's Andre Wisdom, breaking his leg in three places.

"We were worried when he had the injury," says Hall. "It came at a time when he was learning and developing at his quickest and he was out of the game for eight or nine months.
"He hated every moment of it and wanted to be back playing after two weeks."
Fortunately for Everton and Barkley, the injury did not affect his development. He returned to training in time for pre-season ahead of the 2011-12 campaign before making his debut for the Toffees in a 1-0 defeat by Queens Park Rangers on 20 August.
After that, Barkley was used sparingly by Moyes. He was sent on loan to Championship side Sheffield Wednesday to aid his development by playing regular first-team football outside of the Premier League. He made 13 appearances for the Owls, memorably scoring twice in a 3-0 win at Ipswich.
"He slotted straight into the team and you could see he had Premier League ability," says Wednesday winger Michail Antonio. "His technique was excellent, his vision was good and he always picked up the ball in midfield and broke through the opposition defence. He opened teams up."
When Moyes departed last summer to become Manchester United manager, Barkley may have wondered where that left his future at the club.
But he has flourished even further under Martinez, with the Spaniard showing enough faith in the youngster to call upon him in 38 games for Everton as they finished the campaign with 72 points - their highest total in the Premier League.
His arrival on the international scene has perhaps come at just the right time, too. With Steven Gerrard and Frank Lampard coming towards the end of their international careers, eyes are on who could could be their long-term replacements.
Both Gerrard and Lampard are in Hodgson's 23-man squad for Brazil, but Barkley's inclusion alongside them suggests the national coach believes he is capable of stepping into either of their boots.
The key, as with any young player, is ensuring it does not all go to his head.
"It is the beginning now," says Cawley. "I always said to him not to believe the hype or buy into it until the end of your career. You see some players who have made a similar kind of progress and seem to have gone into reverse. Ross needs to make sure that does not happen.
"However, I am sure that, with the support of the club he is at, his family and his own mental strength, it won't."