England v Montenegro: Failure not an option for Hodgson

By Phil McNulty
Chief football writer
Last updated on .From the section Football706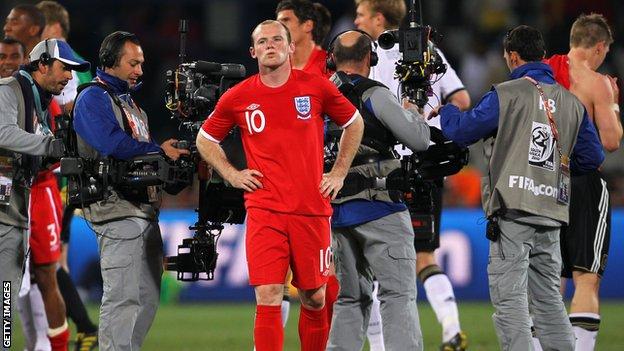 As England's players trained on the Copacabana sands and soaked up the history of Rio's iconic Maracana Stadium in the May sunshine, the idea of not returning to Brazil a year later for the 2014 World Cup grew ever more unthinkable.
Bernstein's words can be taken as an understatement. They certainly would be by more than 54,000 English people who have already applied to Fifa for World Cup tickets.
And yet, as manager Roy Hodgson's side prepare for their two final qualifiers against Montenegro and Poland at Wembley, no firm plans can yet be made for next summer.
England's failure to reach any World Cup is painful for the nation's football community - but there would be added cause for regret if they are on the outside looking in at what Fifa expects to be the ultimate sporting carnival in Brazil.
The odds must favour England on home territory in their concluding qualifiers. They might have only managed victories over the minnows of Moldova and San Marino during the qualifying campaign but they are nonetheless masters of their own destiny.
England may still need to plot their route back to Rio through the play-offs - and the consequences of failure will be wide-ranging for the FA, Hodgson and so many of his current England squad, especially with new chairman Greg Dyke's goal of winning the 2022 World Cup in Qatar fresh in the memory.
For Hodgson, he will already have some idea of what awaits should England not navigate the last part of the path to qualification successfully.
Hodgson may only have been appointed as England manager in May 2012 - the Euros that year were almost regarded as a free hit - but his position would be regarded by many as untenable if he could not take his squad out of a group containing Ukraine, Montenegro, Poland, Moldova and San Marino.
He and the FA would be under huge pressure to act and would face searching questions as to why they were not in Brazil.
Plenty before have paid the price in similar circumstances, most famously World Cup winner Sir Alf Ramsey when he failed to win a final qualifier, also against Poland at Wembley, and did not make the 1974 World Cup.
Graham Taylor lost his job as England manager for missing out on the United States in 1994, as did Steve McClaren when he did not take the country to Euro 2008.
The good news for Hodgson is that plenty, including himself and surely England's players, would have signed up in advance for having to beat Montenegro and Poland at Wembley to reach Brazil.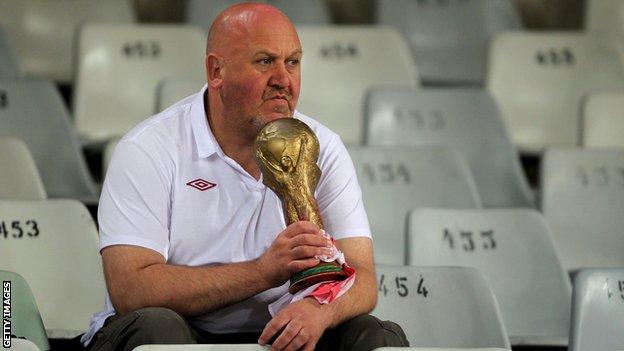 The serious damage inflicted on the FA would not be financial in straightforward terms. The biggest blow would be to have their highly prized "brand" absent from what will be a showcase for world football - and it is hard to quantify that cost.
England's major sponsorship deals are locked in until 2018, irrespective of qualification.
They have a relatively new kit deal with Nike worth a reported £25m-a-year, while the extension of Vauxhall's deal as the lead partner for all the international teams, understood to come in at about £7m a year, was extended to July 2018 amid much fanfare and a headline-grabbing keynote address from Dyke in September. This contract runs up to and including the 2018 World Cup in Russia.
Television deals are also secure up until 2018, while the FA has halved the Wembley debt to £267m in seven years and expects the National Football Centre at St George's Park to break even in three years - as well as having £96m in cash reserves for future strategy, investment and any other "rainy day" emergencies.
Qualification brings some financial rewards, but with those major contracts protected it will not have a serious financial impact on an organisation which recently reported overall revenue of £318m.
At the 2010 World Cup in South Africa, qualifying countries were awarded a little less than £1m in preparation costs and the prize money for reaching the last 16 - where England failed against Germany - was just under £6m. All this is also set against the cost to the FA of attending the tournament.
The loss of potential shirt sales in such circumstances would be a blow, but the real fall-out would be to England and the FA's credibility and image should the World Cup take place without them.
Of course there is huge incentive for England's squad to hit such a pinnacle in their careers, albeit that they will hardly travel on a wave of optimism and expectation, especially after Dyke's recent realistic assessment that few would consider them serious contenders to win.
For many key figures it will be their last World Cup. England captain Steven Gerrard will be 34 by the time the next World Cup starts and Frank Lampard would be 36 during the 2014 tournament - failure to qualify may persuade them to end their international careers.
Ashley Cole, absent through injury against Montenegro, is 33 in December and even Wayne Rooney would be approaching his 33rd birthday by the time the 2018 World Cup in Russia comes around. Brazil may be his last chance to finally make an impact on this tournament.
England's emerging young players such as Everton teenager Ross Barkley, Arsenal midfielder Jack Wilshere and others from their generation will be equally keen not to waste this opportunity on the basis they do not know what the future holds.
So there are footballing consequences rather than financial ones going on the line against Montenegro at Wembley on Friday and when Poland arrive on Tuesday.
For all the remaining uncertainties England's fate remains in their own hands, which is exactly what Hodgson and his players would have wished for.
The price of failure to the FA and all those associated with England may not be expensive when counted at the cash registers - but on all other levels it would be costly, embarrassing and perhaps even more than the "huge national disappointment" Bernstein spoke about in Rio in May.