St George's Park: The FA's plan for 2022 World Cup success

By Phil McNulty
Chief football writer
Last updated on .From the section Football152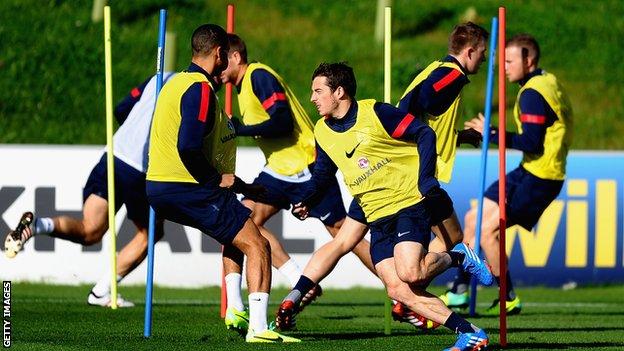 When new Football Association chairman Greg Dyke marked the start of his reign by setting England the goal of winning the 2022 World Cup in Qatar, he instantly turned the spotlight on their next generation of players.
As he set out his aims in that agenda-setting keynote address at Millbank Tower overlooking Westminster in September, Dyke also labelled English football as a tanker that needed turning.
Further evidence of the problems are shown in BBC Sport's State of the Game study.
It found English players have accounted for less than a third of all the minutes played in the Premier League so far this season.
For many, the flagship that will enable England to set sail towards that 2022 target is tucked away in 330 acres of Staffordshire countryside at the national football centre at St George's Park.
This state-of-the-art home of English football celebrated its first anniversary on Wednesday.
It is the bricks and mortar embodiment of FA ambition and the heartland of where that next generation of England's footballers will be bred.
The sprawling £105m complex, which includes a centre of excellence for training coaches as well as sports medicine, sports science and psychology, was bustling this week.
Coaching courses were being staged, England's players arrived for the World Cup qualifiers against Montenegro and Poland and other significant football figures such as Liverpool manager Brendan Rodgers enjoyed lunch with staff during a visit.
In the last 12 months alone, 44 candidates passed the first FA Advanced Youth Award Course, 21 earned their Pro Licence at the centre and 16 completed the inaugural FA Elite Coaches Award.
And, in addition to more than 50 professional clubs using the facility in the last 12 months, 231 community/grassroots clubs played at least once at St. George's Park.
It is at odds with the unflattering picture painted by Harry Redknapp when he name-checked St George's Park as part of what he might not have liked had he been appointed England manager - sitting around "drinking tea with a bloke in a suit."
Amid this week's activity, St George's Park chairman David Sheepshanks, whose passion for the project has played such a part in its initial successes, outlined the FA's vision for how the future will be plotted towards Dyke's target.
Sheepshanks told BBC Sport: "I think it was time for the FA to set some goals. Greg is the chairman of the FA, he has put down a marker and I really applaud him for it. It is up to every one of us to raise our game and try and deliver it. We are now here on a journey to deliver for England."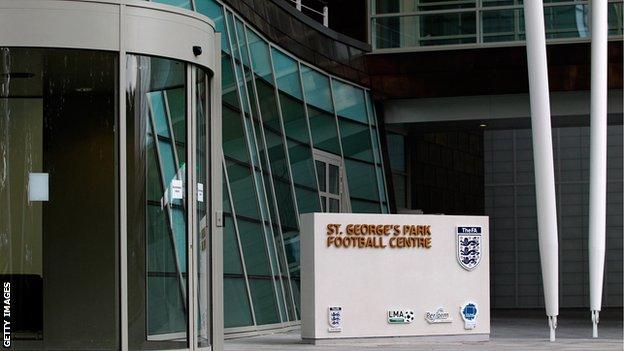 In Burton, Sheepshanks will oversee major investment in coach education - with the best coaches passing on that knowledge to the young players Dyke might hope to see achieving success in 2022.
He said: "St George's Park will play an enormous part in achieving what Greg has set out and also in developing that next generation. First and foremost it was always to be the national football centre. If you imagine any top club in the world operating without its own training centre you would say this was unthinkable and yet England had been expected to operate without a training centre all these years.
"England's football team has, metaphorically, been living out of a suitcase and that is not conducive to good international team development. We have 24 England teams who play here. They have been here more than 50 times already and they can only benefit.
"The second role is in coach education. If you want to change or improve, where do you start? You start with the teachers. The teacher has a defining influence.
"We all remember how inspired we were by good teachers and how if we had poor teachers it didn't necessarily work.
"We know because the Germans and the Spanish, for example, both tell us that one of the first things they did to improve the footballing success in their country was to invest in coaching and coach education."
This in turn, believes Sheepshanks, will bring through the next generation and eventually turn around the unflattering statistics about low numbers of English players in the Premier League.
"The FA has put its marker down," he says. "It has invested £100m in building St George's Park and a whole lot more money in investing in the right people to run this.
"The objective is to create a new generation of more technically gifted players and, every bit as important, a new generation of decision-making players. We want players who take a greater sense of ownership in their personal career development, who are brought up with the values that surround them here."
So how will those values affect the playing styles of future England players?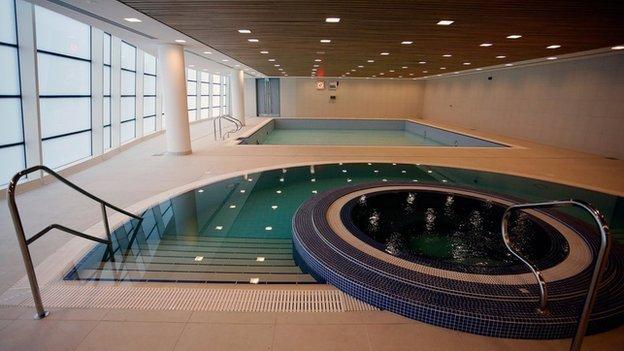 "The teams will have a framework from which they will work from U21s down to the U16s, concentrating on a possession-based game with creative attacking play," says Dan Ashworth, the FA's director of elite development.
"What is important, however, is that we keep in mind the traditional characteristics of the English game - hard work, pressing and quick transition.
"What's important to differentiate is a style of play and systems of play.
"The style of play will be set and unified across the teams with some subtle differences that may occur due to varying stages of development (age groups) where priorities may change slightly, or where we want to tactically adjust to certain situations.
"For example, against certain opposition in particular games where we need to see it out, or in varying tournament situations.
"Different systems of play are all part of a young player's education and part of tactical flexibility, therefore we will have a set philosophy - but we won't have a set system as such."
The FA expects the next generation to be inspired - and aspire - as they make their way down the long, winding drive into St George's Park.
And Sheepshanks' passion for the project pours out as he underlines the standards he expects the facility to set.
He added: "[Former England caretaker manager] Howard Wilkinson had a great line that I like to stay loyal to - and that is to say we are trying to create the Oxford and Cambridge of coach education at St George's Park.
"We are trying to take the best ideas from around the world, bring them into an English context and make them work for England.
"In terms of 2022 and having a higher percentage of England-qualified players in our Premier League teams, you have to believe that if we're effective in our coaching, our training, our education and inducting a new culture of personal ownership among our next generation of young players, you have to believe more of them will come through.
"I really do believe they will. I don't subscribe to the view that just because half, or just over half, of our Premier League clubs are foreign owned that they don't want to use home-grown English qualified players.
"We know we have open doors to the European community, for example, and we know the Premier League has built the most successful league in the world, few would question that, therefore they are going to afford the best.
"So what are we going to do to try and get more English players into it? We're going to invest as much as we possibly can improving the education of our young players so they not only have the right skills but the right mental strength and character attributes to be able to force their way into teams.
"Somebody is going to say 'we don't see any signs yet', and I'm going to say you will not yet - but there is an enormous amount of activity here at St George's Park to invest in the future.
"From Greg Dyke's point of view I hope when he came around St George's Park he saw for himself what we have got here. It's not just a blind challenge to win in 2022. It is a challenge he can make knowing many, not all, of the building blocks are already in place and decisions have been made to give us the platform to launch ourselves towards that target."