Wayne Rooney: Man Utd striker 'didn't want to play in midfield'
Last updated on .From the section Football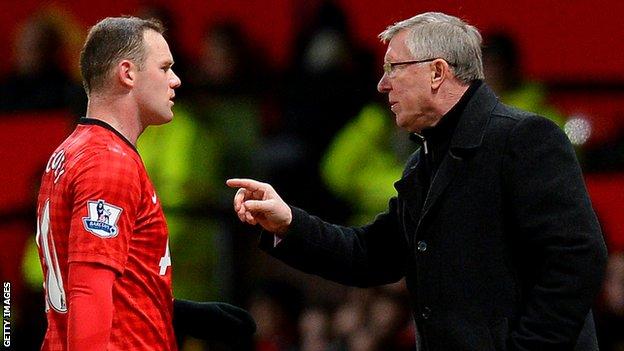 Wayne Rooney says he considered his future at Manchester United last summer because he was played out of position by former manager Sir Alex Ferguson.
"I got told to play in midfield and I didn't want to," said Rooney.
"I just think there had to come a point when, for my own career, I had to be a bit selfish really."
Rooney, speaking for the first time about his reasons for considering his future, says his performances last season were affected by not playing in "my position".
He was subsequently dropped by Ferguson for the second leg of United's Champions League quarter-final against Real Madrid, which prompted questions about his future during the summer - and attracted two bids from Chelsea.
"Everyone at the club knew where I wanted to play and I think that's why I was disappointed," said Rooney, who has scored 36 goals in 84 games for England.
"I actually felt when I played in midfield I did OK, but I didn't want to play there. I've had no problem in the past playing out of position. But I felt I deserved the right to play in my position and that wasn't happening.
"I think, naturally, I was a bit disappointed and maybe that affected some of the games I played. I know myself that last year wasn't my best season but there were times when I was playing in different positions.
"I didn't feel I got a consistent run of games up front. Sometimes when you're not playing in one position all the time it's difficult to adapt."
Under Moyes - the manager who gave him his professional debut at Everton - Rooney has been a regular starter up front this season, alongside Robin van Persie.
"David Moyes has come in, he's playing me up front and I'm enjoying it," added Rooney. "I'm not saying I wouldn't [go into midfield] for instance if it was the last 10 to 15 minutes of a game, if we were holding on a bit and I got asked to drop to the left, or drop back, to help see out the game.
"I'd always go in and try to help the team. I'm not saying I'd throw my arms up and not do it. I can play in midfield. Maybe when I'm a bit older, losing my legs a bit, I can go back there."