Norwich City erase £23m of debt to secure 'rosy future'
By Chris Osborne
BBC East Sport
Last updated on .From the section Norwich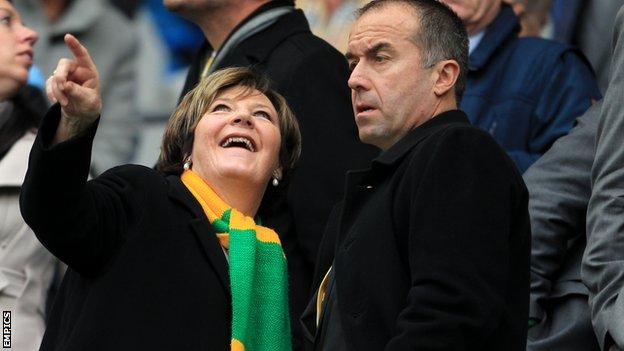 Norwich City chairman Alan Bowkett says the club now has the freedom to manage its own destiny after becoming free of external debt.
The club had loans amounting to £23m four years ago, but now only owes interest-free money to directors.
"I'd postulate there are few clubs in the Premier League who can say that," Bowkett told BBC Sport.
"We're on a sound financial footing. In my view we have our best team for 20 years. The future is looking rosy."
He added: "In terms of the football club going forward it gives us complete freedom to manage our own destiny."
Following relegation to League One in 2009, the Canaries were in a desperate financial position, struggling to meet the payments on the £23m worth of debt.
But the arrival of Bowkett as chairman and David McNally as chief executive, coupled with back-to-back promotions to the Premier League and restructuring of the club's loans, has seen a stark turnaround in fortunes.
City finished the 2012-13 financial year with £900,000 of external debt, £700,000 of which was tied up in preferred shares, while the remaining £200,000 was paid off weeks after the accounting period.
"Four years ago when we were looking at lots of debt and League One football, we put in a plan to turn the business around and I'm happy to report we're on track," said McNally.
"To do it in four years, some would have perhaps seen as far-fetched back in 2009.
"They were difficult days. We are now institutionally debt free. We can now generate as much cash as possible and put that into the football team. Comparing then and now is like night and day."
Norwich's after-tax profit for 2012-13 was just £500,000, down from £13.5m in the previous 12 months, but the club has moved its financial year from May to June, meaning the newest accounts cover a 13-month period.
Meanwhile, there was £19.7m of player investment in the last financial year, up from £10.4m, and increase in spending made possible by successfully retaining their Premier League place for a third successive season, and the £49.03m received for television rights.
The latter figure will rise to somewhere between £62m and £64m for this season, with an extra £1.25m for every position above 20th the club finishes.
"As long as we're alive, we have to stay in the Premier League," said McNally.
"It's a message I need to get across to all of my colleagues here at the football club. The board knows it, but everybody who works here needs to be focused on that.
"It's why the finances have improved so quickly and it's integral to our future plans."
Despite their healthy financial position, proposals to expand Carrow Road have been deferred.
The Canaries regularly sell out their 27,000-capacity stadium and had considered rebuilding the City Stand to increase that to 32,000.
However, that would require a 20-year, £30m mortgage and losing up to 6,000 seats for an entire season, so the project has now become a long-term idea.
"It's on the agenda, but the first thing we want to invest in is the software - staff and academy - to secure our position in the Premier League," Bowkett added.