Arsene Wenger defends Jack Wilshere's 'English' comments
By David Ornstein
BBC Sport
Last updated on .From the section England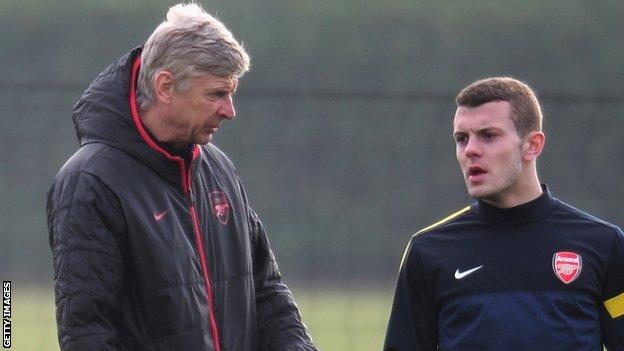 Arsenal manager Arsene Wenger has backed his midfielder Jack Wilshere's claim that only English people should play football for England.
Manchester United's Belgian-born Adnan Januzaj could qualify for England in the future by residency.
Asked about the issue, Wilshere, 21, said: "If you live in England for five years it doesn't make you English."
Wenger told BBC Sport: "I agree with him. I always said also an Englishman should manage the England team."
The Frenchman warned that national teams risk replicating clubs, who buy players to represent them regardless of their passport or nationality.
Wilshere, who has 10 England caps, said his comments were not in reference to Januzaj, who England manager Roy Hodgson has confirmed he is monitoring.
South Africa-born England cricketer Kevin Pietersen responded to Wilshere's comments by asking the Gunners player: "Interested to know how you define foreigner...? Would that include me, [former England cricket captain Andrew] Strauss, [cricketer Jonathan] Trott, [cricketer Matt Prior, [golfer] Justin Rose, [cyclist Chris] Froome, [runner] Mo Farah?
"Same difference.. It's about representing your country! IN ANY SPORT!"
And later on Wednesday, Wilshere sought to clarify his original remarks: "To be clear, never said 'born in England' - I said English people should play for England. Great respect for people like KP [Kevin Pietersen], Mo Farah [born in Somalia] and Wilf Zaha [born in Ivory Coast] - they make the country proud.
"My view on football - going to a new country when you're an adult, and because you can get a passport you play for that national team - I disagree."
The 18-year-old Januzaj, who has not yet played internationally at any level, was born in Brussels and signed for Premier League champions United in 2011 from Belgian club Anderlecht.
He also qualifies for Albania through his Kosovan-Albanian parents, Turkey through his grandparents and Serbia as Kosovo's independence has not been recognised by the United Nations.
Any England hope stems from Fifa rules that a player is eligible if "he has lived continuously for at least five years after reaching the age of 18 on territory of the relevant Association."
That would mean Januzaj would have to wait until 2018 to represent England, assuming he remains in the country until he turns 23.
"I personally believe what we have really to define is what is an English player and we get that more and more," said Wenger, speaking at the launch of the Four Four Jew exhibition at the Jewish Museum in London.
"I have young players now with three different nationalities and I ask them how do you feel? You have some, for example, who were born in Africa, they have come to Europe, they have lived for a few years in one country and, after, their parents have moved to another country because they had to find work - and they have three different cultures.
"One of the tasks of the modern politicians will be really to define what is the nationality of a person, because some people feel differently to their passport.
"Have they the freedom of choice or do they have to be educated in a country to feel they love this country? Have you to spend a certain number of years in the country to say you represent this country?
"I feel, as well, in Januzaj's example do you just come six months and play for a country? It's not realistic. Maybe if he stays a few years and he decides that he wants to play for England then...
"But he has not chosen yet which country he wants to play for."
Speaking to BBC Radio 4's Today programme, QPR manager Harry Redknapp said: "I'm in Jack Wilshere's corner. There are several clubs in the Premier League now, whose youth teams are absolutely full up with players who are bought in from other clubs abroad.
"If they come over here, and they live here and they go to school here and their parents bring them in, it's different, I can accept that 100%. But if a kid's at another professional club in another country and we bring him in at 16 or 17 years of age, I certainly can't see why he should be allowed to play for England."
England, Northern Ireland, Scotland and Wales voluntarily agreed to opt out of the residency rule in 1993.
Instead, they have chosen to allow switches once a player has received five years' education in one of the four countries before the age of 18, which reduces the chances of Januzaj playing for England unless the home nations change their stance.