State of the Game: Championship a stepping stone for England

Last updated on .From the section Football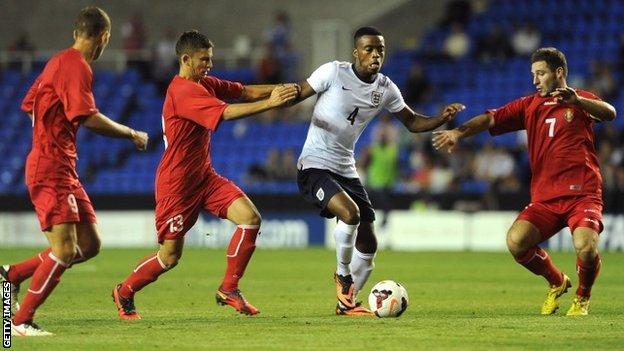 "I could go to a league match and have only five English players to look at out of 22. That never happens in other countries and it's worse now because of the imports."
That was England's first manager Sir Walter Winterbottom talking about his options in the early 1950s.
Irish, Scottish and Welsh players were the "problem" back then - that it is Brazilians, French and Kosovans from Belgium now will be of little comfort to Roy Hodgson, he can no sooner pick them than Winterbottom could select Danny Blanchflower, Dave Mackay or John Charles.
But the fact that Hodgson is even entertaining the idea of poaching some of the foreign talent he is watching in increasing amounts in the Premier League suggests Winterbottom's old job is not getting any easier.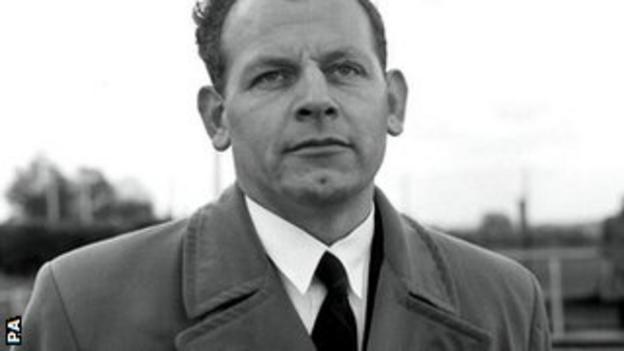 That is the main message from the BBC's State of the Game report. English players are now playing only 32.26% of the total minutes in top-flight games, down 4% on six years ago, which is half of the time Spanish players get in La Liga.
We chose the 2007-08 season for a reason; it was the last time all four home nations failed to qualify for that summer's big tournament.
Winterbottom qualified for four straight World Cups between 1950 and 1962, but was considered a failure at the time for not getting various golden generations beyond the quarter-final stages (stop me if you have heard this one before).
Hodgson would love to fail that badly. At least he still can: Northern Ireland, Scotland and Wales already know they cannot qualify for Brazil 2014.
The BBC study, compiled with help from Opta, is not all grim foreboding, though. There is plenty of English (and Irish, Scottish and Welsh) talent playing every weekend in one of the richest and most popular leagues in Europe, the Championship. And English, Scottish and Welsh players are doing it in increasing amounts, particularly the English.
Six years ago, English players made up 51.8% of the total number of players in the second tier and got 48.4% of the game time. So far this season, those numbers are up to 53% and a very encouraging 55.4%.
In total, 70% of the minutes played in the Championship this season have been played by footballers from the UK.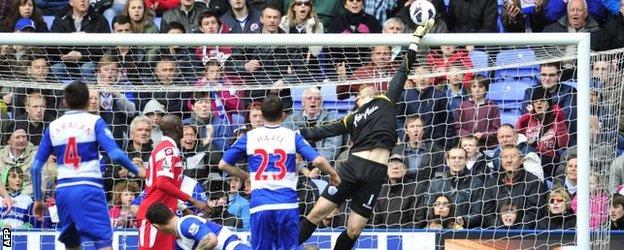 Last weekend, 178 of the 330 players who featured were English, with Charlton Athletic using 11 English players, and Barnsley and Millwall 10 each.
While many observers were bemoaning that only two English goalkeepers were starting in the Premier League, there were 14 on show in the Championship, including Rob Green keeping an eighth straight clean sheet for second-placed QPR, Team GB's Jack Butland at the other end for Barnsley, and two other rising stars in Alex McCarthy at Reading and Huddersfield's Alex Smithies.
And if you are wondering what has happened to all that wonderful domestic talent the Premier League's academies were supposed to churn out, it is OK, it is on display most Saturdays at a Football League ground.
There are 41 Premier League players on loan at Championship clubs at the moment, and 35 of those are British.
Chelsea have currently got Nathaniel Chalobah at Nottingham Forest, Todd Kane at Blackburn Rovers and Josh McEachran at Watford; Manchester United have sent Jesse Lingard to Birmingham City, and Nick Powell to Wigan Athletic, while Spurs' Tom Carroll is helping his old boss Harry Redknapp at QPR, and so it continues.
But it is not all about hand-me-downs. The Football League's 72 clubs are growing their own, too.
Championship-toppers Burnley keep things very local. Their 20-man first-team squad includes 16 Brits, with another 21 in the development squads. Spare a thought for French youth midfielder Andreas Bianga: he is the only non-native English speaker at the club.
"There's some fantastic youth development work being done in the Football League. So I'm not surprised to hear that the work is bearing fruit," said David Wetherall, the League's new head of player development.
"About £60m a year is invested in youth development in the Football League, and two thirds of that comes from the clubs themselves. That's a huge commitment to youth, and you can see the benefits.
"About a third of our registered players are under 21, and almost 250 players made their league debuts last season."
That is all very well, of course, but the Championship is the B league, right? You cannot pick second-tier players for England… can you?
With the number of Englishmen playing in the Premier League falling almost every year, there will soon come a time when an England manager will have no choice but to look further down the ladder (as other home nations bosses have had to do for some time). But this does not need to be considered a disaster.
The Premier League, the richest club competition in world football, is a global product, with 61 different nationalities represented on the field, not to mention those in the boardroom. French players have had more minutes this season than those from Northern Ireland, Scotland and Wales combined.
The Championship is almost as cosmopolitan, with 51 different nationalities, and while its overall revenues are about a fifth of the Premier League's, that is still enough to make it the seventh richest in Europe.
"Championship clubs are increasingly able to compete for playing talent with clubs in the top divisions of other European leagues," said Deloitte's 2013 Annual Review of Football Finance.
"We estimate the wage cost of a club in (England's) second tier is greater than the wage costs of approximately 25% of clubs across the top divisions of Spain, Italy and France."
To put this into context, two Championship teams have played in the Europa League in the last two and a bit seasons, and they have (so far, in Wigan's case) looked comfortable against the some of the best teams in Belgium, Serbia and Slovenia. Birmingham City beat Club Brugge in Belgium in 2011, the same season they finished second in the Belgian league.
Nobody is suggesting the Championship is the ideal competition for home nations managers to pick their teams from, but the modern reality of life at the top in England suggests they should get used to the idea.
This is why former England manager Glenn Hoddle told the BBC in May that the Championship was key to the national team's future.
Wetherall was 20 when Howard Wilkinson signed him for Leeds United in 1991, and while he only played a few minutes in their title-winning campaign that season, he would establish himself as a first-team regular over the next two years.
"Would I get that chance now? Would I be good enough? Probably not, if I'm honest," said Wetherall, who would go on to make more than 500 league appearances for Leeds United and Bradford City.
"I certainly wasn't the finished article - some will say I never was - but I did get the chance to develop."
It is a chance that half of the England squad Hodgson has selected for the two World Cup qualifiers at Wembley first got in the Football League.
Production line, finishing school, last-chance saloon, call it what you will, but the Championship is part of the solution in any discussion about British football's ills.
So news that homegrown players are finding it increasingly hard to get first-team action in the top flight is a classic example of Mark Twain's old point about there being no such thing as a new idea.
Winterbottom would appreciate this thought - he got heavily criticised in 1958 for ignoring a second-tier striker called Brian Clough, a man who would later show an uncanny knack for finding diamonds in the lower leagues and turning them into world-beaters.