Harry Redknapp: English kids not playing enough street football
Last updated on .From the section Football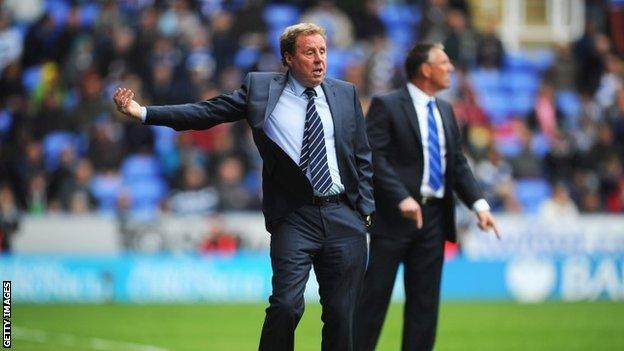 Queens Park Rangers manager Harry Redknapp has blamed the decline of "street football" for England's recent international failings.
Redknapp said: "The simple facts are the kids are not playing."
His comments come after FA chairman Greg Dyke launched a commission to help improve the English game.
The FA's stated aim is to win the 2022 World Cup, but Redknapp says English football must go back to basics if that dream is to become a reality.
The former Spurs and West Ham boss, who was interviewed for the England job in 2012, said: "They may do a couple of hours coaching on a Tuesday and Thursday night at professional clubs, but I don't think they're out playing football as they did years ago.
"I think that the kids have got so many other interests now. When I see my grandkids they're all sitting there and they don't ever have a conversation with you. They sit there playing on their little games they've got.
"I don't think they spend enough time coming home from school playing football until it got dark - that's what we did. I think that's the biggest problem."
BBC Sport's State of the Game survey shows that foreign footballers now account for almost two thirds of minutes played in the Premier League.
On the eve of two vital World Cup qualifiers for England, questions are being raised about the pool of players manager Roy Hodgson has to choose from.
Arsenal manager Arsene Wenger says the FA should welcome the challenge presented by the new statistics.
"There's always two ways to see it," he said. "You have an opportunity to have the best players in the world playing in England, so let's see what they have and let's produce players who have the same qualities.
"Or you say let's protect our players and kick the good players out. Let's just play the English players.
"I believe that we live in a global world, that the competition is not avoidable anymore and the real questions for English football are about producing the players who have the needed quality."
The FA's new panel - which will include the likes of Glenn Hoddle, Howard Wilkinson and Danny Mills - will consider how to increase the number of England-qualified players appearing for the country's top clubs.
West Ham manager Sam Allardyce suggests the lack of top-flight English talent is down to more deep-rooted problems within the English education system.
"We don't want to develop young sports people in this country, simple as that - from a government and school point of view," he said.
"Too many kids are sitting down for six, seven hours a day with no physical education anymore.
"Physical education should be part of everybody's curriculum, but it is not.
"If we spent as much time developing young sports talent in this country as we do teaching them maths and English we'd have world-class talent in this country in the next 10 years."