Rangers: Dave King return would boost club - Alastair Johnston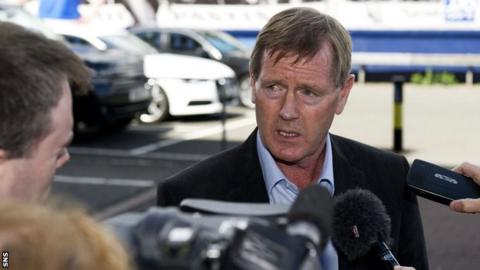 Former Rangers chairman Alastair Johnston would welcome Dave King's return to Ibrox.
King invested heavily during Sir David Murray's Ibrox reign and maintained interest during recent club events.
But issues with South African tax authorities prevented him from playing a more significant role.
"I think his agenda, his experience and the care and attention he pays to financial matters could serve Rangers well," said Johnston.
King recently agreed to pay almost £44m to the Revenue Service in South Africa as criminal charges against him were dropped.
And the Glasgow-born businessman has been in talks with Ibrox chief executive Craig Mather and finance director Brian Stockbridge over the club's future.
Johnston told BBC Sportsound that King would prove an asset at Ibrox.
"David joined the Rangers board at my behest when he invested money and was a friend of mine that I knew from the sports world," he said.
"I paved the way for his original investment in Rangers. David, in his own personal circumstances, seems to have progressed towards resolution of the issues he's had in South Africa.
"Dave King is a very bright guy, keeps his cards very close to his chest and I think his agenda, his experience and the care and attention he pays to financial matters could serve Rangers well.
"Whether or not he'd come into a circumstance where we or he has not a great deal of control, as part of an investment, is only one that he can analyse at this point in time and realistically what he could do, even if he did join."
Asked whether King could be enticed to take up the vacant chairman's role at Ibrox, Johnston said: "I'm not sure how much authority the chairman has right now.
"Dave is not going to go in there in any circumstance where he doesn't have a control. He stayed on the board when Craig Whyte tried to get him off it, simply because of an obstinacy and certain leverage he brought to bear on Craig Whyte.
"But the bottom line was at the end of the day if Dave can't see the role as chairman as being anything more than a figurehead then I don't think he'll be interested."
A group of shareholders are trying to force changes on the Rangers board at the upcoming AGM.
Speaking earlier this week, former Rangers manager Walter Smith said the club must "get rid of the boardroom turmoil" and "settle down".