Wayne Rooney turned down Scotland approach - Berti Vogts
Last updated on .From the section Football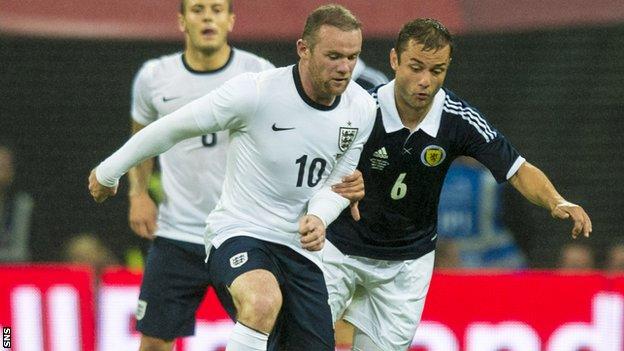 England striker Wayne Rooney turned down the chance to play for Scotland as a 16-year-old, former national coach Berti Vogts has revealed.
German Vogts, who managed Scotland between 2002 and 2004, says Rooney qualified for the team because his grandmother is Scottish.
"I spoke to him - a young lad of 16 years of age. I said to him 'you can play for Scotland'," explained Vogts.
"You have to speak to the player but he told me 'I'm sorry boss, I'm English'."
Rooney, 27, made his England debut in February 2003, aged 17, and has scored 36 goals in 84 international appearances.
Vogts, now in charge of Azerbaijan, made the trip to Merseyside to speak to the teenage Rooney, who was playing under his present Manchester United boss David Moyes at Everton.
"The Scottish Football Association found the grandmother and I made the call," recalled Vogts.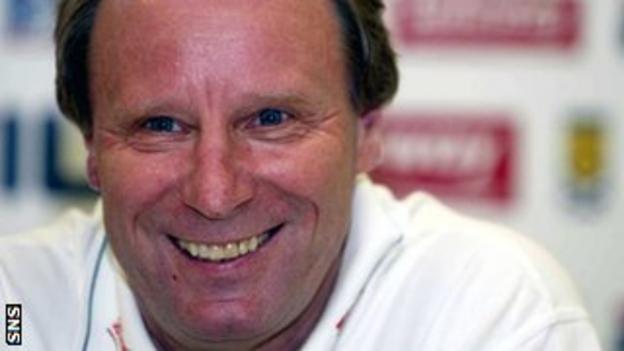 "I flew from Glasgow to Everton. He was playing under David Moyes at Everton and I spoke to him."
Explaining Rooney's reaction, the German coach beat his chest theatrically and said: "(Rooney told me) 'I am English, I am English!' OK, sorry."
Vogts had been asked about the issue of national eligibility following the debate surrounding Adnan Januzaj.
The 18-year-old winger scored two goals on Saturday as Manchester United came from behind to win 2-1 at Sunderland, and is being tracked by a number of national teams - Belgium, Serbia, Albania, Turkey and potentially England in the future on the basis of his residency.
Arsenal midfielder Jack Wilshere said this week that living in England for five years "doesn't make you English," but Vogts, who won the World Cup as a player with Germany in 1974, sees no problem with it.
"It's a Fifa rule. We have to accept it. It is not only in Great Britain but also here in Azerbaijan," he said, speaking at a news conference ahead of his side's World Cup qualifier against Northern Ireland.
Assistant manager Mark McGhee is happy for Scotland to continue to make full use of the Home Nations agreement, which does not include a residency rule, to find the best possible players.
"The criteria set down has been thought out and an agreement made between the four Associations," said McGhee. "It seems to me that works well enough.
"We benefited from Jordan Rhodes and the five-year under-18 rule (that applies to schooling) and we will continue to look at that sort of thing under the rules set and we are happy with that."
When asked about Vogts' audacious attempt to persuade Rooney to play for Scotland, McGhee joked: "He would never get in our team."