Mark McChrystal: Bristol Rovers defender rested for a month
Last updated on .From the section Football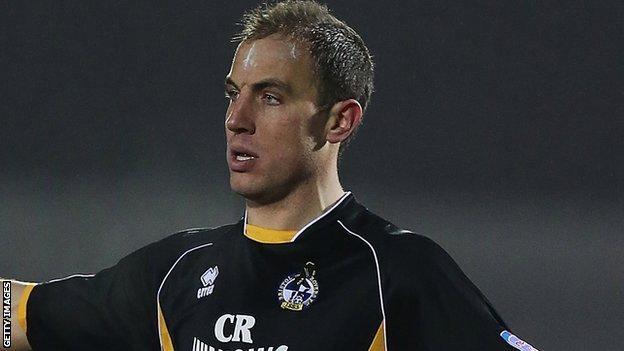 Bristol Rovers defender Mark McChrystal will be rested for at least a month after being diagnosed with tendonitis in his knee.
The 29-year-old is expected to feature in this weekend's League Two game against Mansfield before being kept out the side to recover from the problem.
"We'll see if we can get him out there on Saturday," Rovers manager John Ward told BBC Radio Bristol.
"But there's no way I'll risk his career, fitness or health to do that."
Ward added: "Mark epitomises what we are trying to do within the squad and he's good to have around.
"If he's fit and healthy then he'll be out there, but if he's not then I won't risk him if he's got any doubts."
McChrystal, in his second season at the Memorial Stadium, has played 12 games this term but has struggled for fitness in recent weeks.
Ward had said he would be happy to utilise transfer-listed defender Garry Kenneth in place of McChrystal, but the Scotsman has now picked up an injury of his own and will not be available at the weekend.