Geraint Williams will not select Bradshaw for Wales U21s again
Last updated on .From the section Football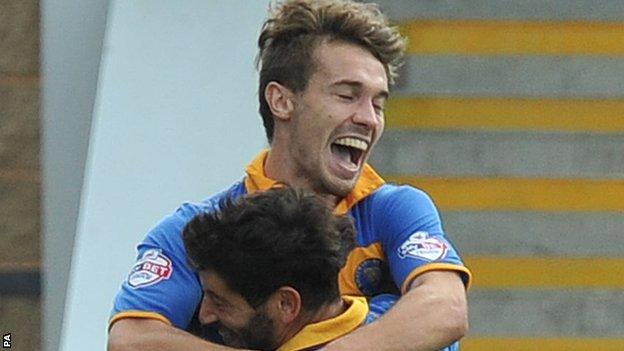 Wales Under-21 manager Geraint Williams says he will no longer consider striker Tom Bradshaw for selection.
Williams added reports that Wales had released the player were incorrect.
"Tom will not be eligible in my eyes because he's ruled himself out of contention for a place," he said.
"That's a conversation for a long way down the line, but certainly Tom has made himself unavailable for international selection.
"It does open up a can of worms. If someone says 'well can I stop this one and come to the next one', every [club] manager in the country is going to do that because they want their players to be playing."
Williams tried to persuade the player to stay with the Wales squad, but instead Shrewsbury's top scorer has made himself available for Saturday's League One match at home to Gillingham.
"I did chat with Tom and I did tell him he can't pick and chose when you come to squads," added Williams.
"He understood that, he thought about it, he took on his decision - not lightly, to be fair to Tom - but he made that decision and we have to live by it.
"Obviously it's very, very disappointing for us because Tom is now coming to bloom and is scoring goals, which is what we always thought he would do and now we've been denied his services."
Shrewsbury-born Bradshaw, who turned 21 in late July and will be over the age limit next season, has scored five times in 11 appearances for his club this term.
However, he failed to make the starting line-ups for Wales'; Under-21 matches against San Marino and Moldova last month.
"Tom has made the decision to make himself unavailable," Turner told BBC Radio Shropshire. "He's decided that, to keep his career on track, it's more important for him to be playing League One football in our first team than travelling halfway round Europe to get 10 minutes here or 40 minutes there.
"It's a decision he's made. He's been put under no sort of pressure.
"He's only got a few more games before he goes over the age limit.
"The next step is in several years' time if he makes enough progress to be considered for the full Welsh national side. Whether that changes then, I don't know."