Scotland forward Steven Naismith seeks home improvement
Last updated on .From the section Football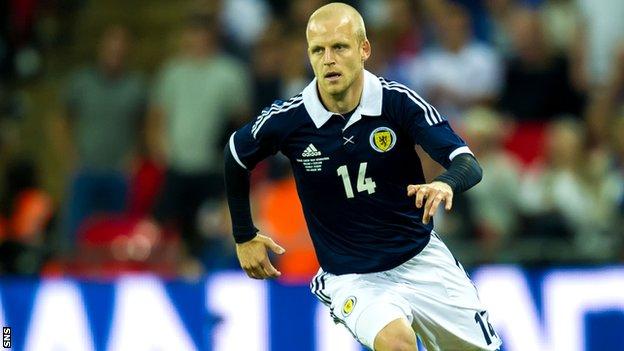 Steven Naismith wants Scotland to sign off on a failed World Cup campaign with a first home when Croatia visit Hampden on Tuesday.
The Everton forward was on target in Scotland's last competitive home success - more than two years ago.
"When you go into these campaigns a lot of people talk about how home games are the ones you need to win," he said.
"That is the case when you have a great crowd like we do at every home game. We should be using that to our advantage."
Naismith, 27, scored the only goal against Lithuania in September 2011 as Scotland finished behind Spain and the Czech Republic in the contest for European Championship places.
And World Cup Group A opened with home draws against Serbia, Macedonia, while Wales and Belgium both left Glasgow with maximum points.
"It's definitely something we need to improve," said Naismith, who hopes to win his 25th cap against Croatia.
"At home we've been unlucky not to win games we should have.
"Going back to the start of this campaign, Serbia is a prime example. We were probably the better team that day and we didn't take our chances."
Scotland have managed two away wins in this campaign, the first of those a surprise 1-0 victory in Croatia in June.
Naismith, often deployed in midfield by Everton, played as a lone striker in last month's 2-1 victory in Macedonia and will be pleased to reprise that role.
"As long as I'm playing I'm happy," he explained.
"I feel as if I can contribute up front. It's where I grew up playing and I still have the instincts a striker needs.
"I was happy with the way I played and we have a quality midfield that make your job easier if you are up front."
Naismith played alongside Kenny Miller for Rangers and Scotland and aims to draw inspiration from the striker, who retired from international duty after scoring in August's 3-2 loss to England at Wembley.
"The biggest thing is holding the ball up to allow the rest of the team to come forward," he added.
"Kenny has done that magnificently throughout his career and every striker here should have been watching him and learning over the years.
"It's a difficult role and one he made look simpler than it was."
Reflecting on the campaign, which saw Craig Levein replaced by manager Gordon Strachan after four games, Naismith's assessment was "not good enough".
"The bottom line is we didn't do it in the first half of the campaign," he said.
"From the Croatia game there has been a feeling we can compete.
"But it counts for nothing if we can't take that into the next campaign when there is a lot riding on it."
Croatia are guaranteed a play-off place and can still catch Belgium if they beat the group leaders on Friday and follow that with a win in Glasgow, although they would also need Belgium to slip up at home to Wales.
Luka Modric missed Scotland's victory in Zagreb through suspension and the Real Madrid midfielder is expected to feature this time.
"He's a world class player and he's going to make them better," said Naismith.
"Croatia are a top, top team. Physically and mentally you need to be at your best to compete against them.
"As a team we need to be organised and totally switched on for 90 minutes."