Killmarnock chair Michael Johnston outlines board plans
Last updated on .From the section Football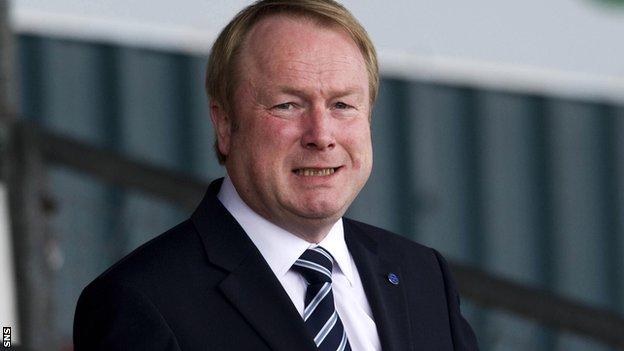 Kilmarnock chairman Michael Johnston has outlined plans to have two supporters' representatives on the board, which could also boast local MPs.
Johnston said in a statement that two of the new directors will be selected by season ticket holders and shareholders respectively.
He also confirmed an investment of £1m by local businessman Billy Bowie.
The statement was read out at a supporters' meeting that Johnston did not attend due to a prior commitment.
Johnston has come under fire from fans in recent months due to the club's debt and his reluctance to step down from his position.
Sections of the support called for Johnston to step down following the exit of manager Kenny Shiels in the summer and recently a group of fans protested outside Rugby Park over a ticket offer made to visiting Celtic supporters.
In his statement presented to the fans' meeting, the chairman said he was hopeful that his proposals to restructure the board would support and encourage local businesses to invest in the club.
"I'm pleased to report that a further meeting took place yesterday at Rugby Park with Paul Goodwin of Supporters Direct," the statement read.
"Billy Bowie and I reiterated to Paul our desire to promote community involvement in the new board of directors of the football club, which we intend to form following the implementation of our financial restructuring plan which we hope to conclude within the calendar year.
"Our shared vision is to have an open and transparent process for the election of a director by season ticket holders and another director by shareholders holding under one thousand shares in the club.
"I'm delighted to report that Billy Bowie Special Projects Ltd has committed to investing a further £1m in the club to assist in the financial restructuring project which I have been working on for over a year with the full support of Lloyds Banking Group.
"Billy Bowie and I hope that this significant injection of capital will act as a catalyst for further investment by other local business leaders and result in a transformation of the club's balance sheet."